Throughout the month of September, providers and advocacy groups are calling attention to the prevalence and signs of sepsis, the body's life-threatening response to infection. It is the leading cause of death in U.S. hospitals, taking the life of a patient every two minutes and affecting an estimated 49 million people every year worldwide. Despite this, at least one in every three adults has never heard of sepsis. That is why in 2011 the Sepsis Alliance officially designated September as Sepsis Awareness Month.
To support its member hospitals in improving their outcomes related to sepsis, MVC collaborated with the Michigan Hospital Medicine Safety Consortium (HMS) in 2019 to develop a sepsis episode definition for its registry. MVC then began distributing sepsis push reports in 2020 with regular refreshes each year. Hospitals received their latest sepsis reports in April, which showcased wide variation across the Collaborative for measures such as total episode payments and 90-day readmission rates (see Figure 1). In addition, hospitals received details on their inpatient mortality and discharge to hospice rates compared to their geographic region and the Collaborative as a whole (see Figure 2). More information about this report was detailed in a previous MVC blog post.
Figure 1.

Figure 2.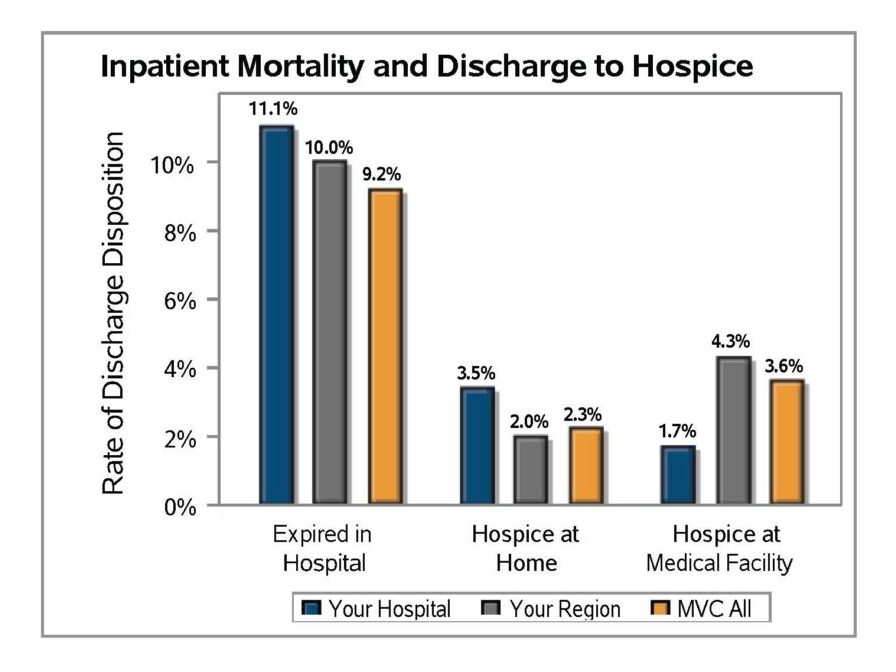 MVC also began hosting a sepsis workgroup in June 2019 to help facilitate idea and practice sharing among Collaborative members. MVC has continued to host sepsis workgroups since then, with the most recent workgroup taking place last week on September 8. That workgroup honored Sepsis Awareness Month with a member panel featuring guest speakers from several health systems in Michigan. Attendees learned about current sepsis initiatives underway at hospitals throughout the state as well as insights on the impact of COVID-19, sepsis screening, sepsis bundle compliance, transitions of care, and other related topics. Those unable to attend can view the complete recording of this panel and discussion here.
One area of focus for this year's Sepsis Awareness Month is a Sepsis Alliance tool to help providers remember the signs and symptoms. Their acronym approach asks providers to remember, "It's about T-I-M-E," with the word "time" representing temperature, infection, mental decline, and extremely ill (see Figure 3).
Figure 3.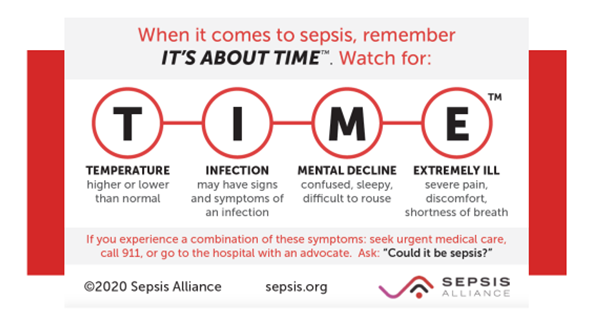 This resource and many others have been created, collated, and packaged by the Sepsis Alliance in their yearly Sepsis Awareness Month Toolkit. Hospitals and providers are encouraged to utilize these resources to help educate their staff and patients. The hope is that through public education we can raise awareness of the signs and symptoms of sepsis so people in our communities know when to seek emergency care. Together, we can help save lives and limbs from sepsis. Learn more at sepsisawarenessmonth.org. To contact the MVC Coordinating Center about your sepsis reports, future workgroup speakers, or other questions, please email michiganvaluecollaborative@gmail.com.