MVC staff stepped out of their daily routines recently when they volunteered as a team at a local nonprofit organization. Eager to make this service opportunity as meaningful to their work as possible, MVC staff selected an organization with ties to health and well-being. Last month they were hosted by Food Gatherers, the food bank and food rescue program serving Michigan residents in Washtenaw County. MVC teammates worked together to sort rescued produce in the Food Gatherers warehouse, saving and packing 1,312 pounds of produce for the community.
Though MVC teammates were excited and impressed by that number, it pales in comparison to the amount of food processed by food banks like Food Gatherers, which last year distributed 7.3 million pounds of food — the equivalent of 6 million meals — through its network of partner programs. In order to collect and distribute all those meals, Food Gatherers maintains a working warehouse where an average of nine tons of food are processed each day, and a busy community kitchen prepares and serves hot meals seven days a week. Volunteers play a significant role in these operations.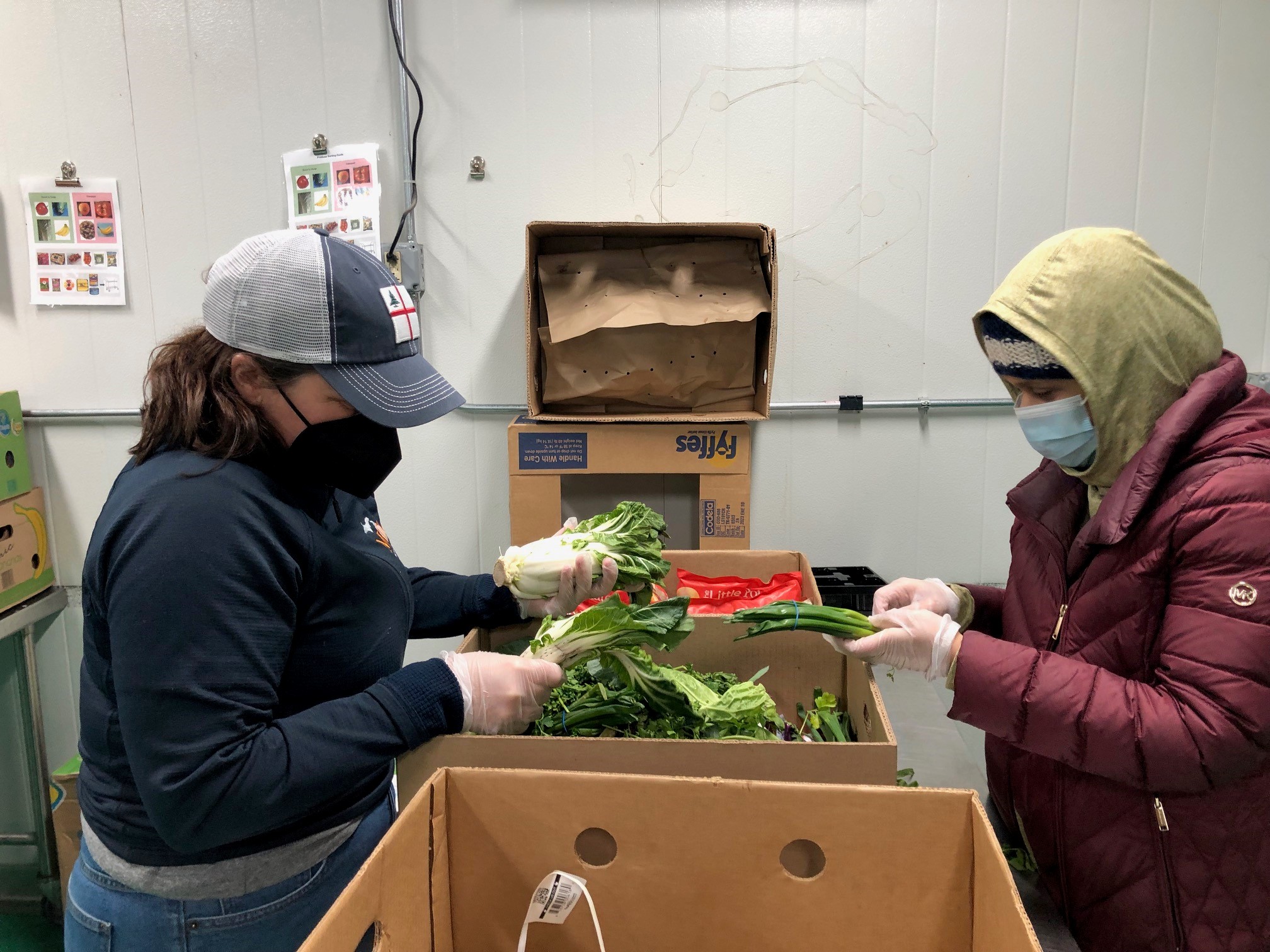 Produce boxes and other foods that are processed by volunteers eventually find their way into the hands of over 170 community partners, such as food pantries or emergency groceries. In addition to distributing food, Food Gatherers also works to connect beneficiaries to SNAP and other federal food programs and provide innovative food distribution initiatives at area schools and clinics. A new area of focus is the cultivation of partnerships with healthcare providers to further identify and address food insecurity in the community.
Food Gatherers established its Health Care and Food Bank Partnership Initiative to create a connection between local healthcare institutions and Food Gatherers' network of partner pantries. It was designed to increase access to food for community members in partnership with healthcare providers. Key activities of the initiative include establishing food insecurity screening and referral programs within primary care locations, training medical professionals such as residents and allied health professionals on the role of food security as a key social determinant of health, and drawing attention to the issue of hunger and healthy food access with healthcare providers.
This is a growing area of interest for food banks across the country since food insecurity is closely linked to poor health outcomes and increased risk of chronic disease. According to one study, in fact, the rate of Type 2 diabetes is 25% higher in adults who are food insecure. In addition, as many as one-third of patients with a chronic illness are unable to afford food, medications, or both. A recent publication using MVC data also found strong associations between chronic disease burden and financial outcomes.
Several components of the Food Gatherers Health Care and Food Bank Partnership Initiative were initially supported through a Michigan Medicine grant. Food Gatherers has worked with Michigan Medicine, Trinity Health St. Joseph Mercy Ann Arbor, and IHA as well as with community-based clinics such as the Hope Clinic, Packard Health, and the Corner Health Center. Though the grant ended in 2021, the larger concept of partnership between healthcare providers and community food banks is still an area of interest and opportunity.
"Food Gatherers has been working with our local health care partners to support and encourage the use of food insecurity screening in primary care settings," said Markell Miller, MPH, Director of Community Food Programs at Food Gatherers. "When providers can identify food insecurity in a patient, they can help connect the individual to resources - specifically SNAP, or if it's an urgent need, a local food pantry. Hunger is a health issue, and when providers talk about food security, they reinforce the connection between nutrition and health, and also destigmatize the experience for individuals facing food insecurity. Our Hunger and Health Training program provides baseline information for physicians on food security as a social determinant of health, and how to support individuals facing food insecurity. We've focused on training medical residents going into careers in primary care, but there is an opportunity to train other providers to increase knowledge and comfort with food insecurity screening and referrals. We look forward to future opportunities to expand our partnership with health care providers, and also continue to seek sustainable funding solutions to support the network of healthy pantries that are available in our community."
Similar programs are also underway at other food banks across Michigan, such as Gleaners Community Food Bank of Southeastern Michigan. In 2015, Gleaners was one of three participating food banks in a two-year randomized controlled research study on the impact of food bank interventions on outcomes for patients with Type 2 diabetes. They have partnerships with the CHASS Center, Covenant Community Care, Henry Ford Health System, the Michigan Health Endowment Fund, the National Kidney Foundation of Michigan, and Trinity Health St. Joseph Mercy Livingston, and have thus far connected more than 500 patients with healthy food.
MVC recently invited Jessica Ramsay, MPH, Director of Wellness and Nutrition Education at Gleaners, to present at MVC's upcoming chronic disease management workgroup on Thurs., April 20, from 2 - 3 p.m. The presentation will focus on partnerships between healthcare providers and community organizations, highlighting pilot programs and initiatives at Gleaners that improved both patient outcomes and healthcare utilization through reduced food insecurity. Registration for this workgroup presentation is open now.
To learn more about the food banks mentioned, please visit the websites of Food Gatherers and Gleaners Community Food Bank of Southeastern Michigan. Reach out to MVC if your hospital or PO has a similar partnership in place with a community-based organization – MVC would love to highlight this work.
To learn more about the ways in which food insecurity impacts health, check out the video below from Feeding America.
Illuminating Intersections: Hunger and Health (Feeding America)