The Michigan Value Collaborative (MVC) held its second semi-annual meeting of 2022 last Friday, marking MVC's first in-person collaborative-wide meeting since 2019. A total of 90 leaders registered for the meeting, representing 25 different hospitals, seven physician organizations (POs), and five stakeholder organizations from across the state of Michigan. This meeting's theme of "Prescribing Health in Michigan" showcased strategies to drive evidence-based medication utilization and support patient access to medications through the implementation and evaluation of quality improvement projects.
MVC Director Hari Nathan, MD, kicked off Friday's meeting with an update from the MVC Coordinating Center. He welcomed one new collaborative member, Bronson Lakeview (Paw Paw), as well as MVC's newest team members, Associate Program Manager Erin Conklin and Statistician Lead Usha Nuliyula. Dr. Nathan also highlighted the successes delivered by the Coordinating Center since May's Semi-Annual Meeting. For instance, MVC launched its Qualified Entity registry pages to provide authorized users with more granular data than is available in the Medicare FFS reports, incorporated Distressed Community Index data into push reports as part of MVC's commitment to emphasizing equity in healthcare, and distributed three new push reports (chronic obstructive pulmonary disease for POs, emergency department and post-acute care utilization for acute and critical access hospitals, and a hysterectomy report for hospital members).
Dr. Nathan also provided an update on the MVC Component of the Blue Cross Blue Shield of Michigan (BCBSM) Pay-for-Performance (P4P) Program, noting that final scorecards for Program Year 2022 will be distributed in quarter one of 2023. Attendees also learned about P4P changes coming with Program Years 2024 and 2025 (see Figure 1).
Figure 1.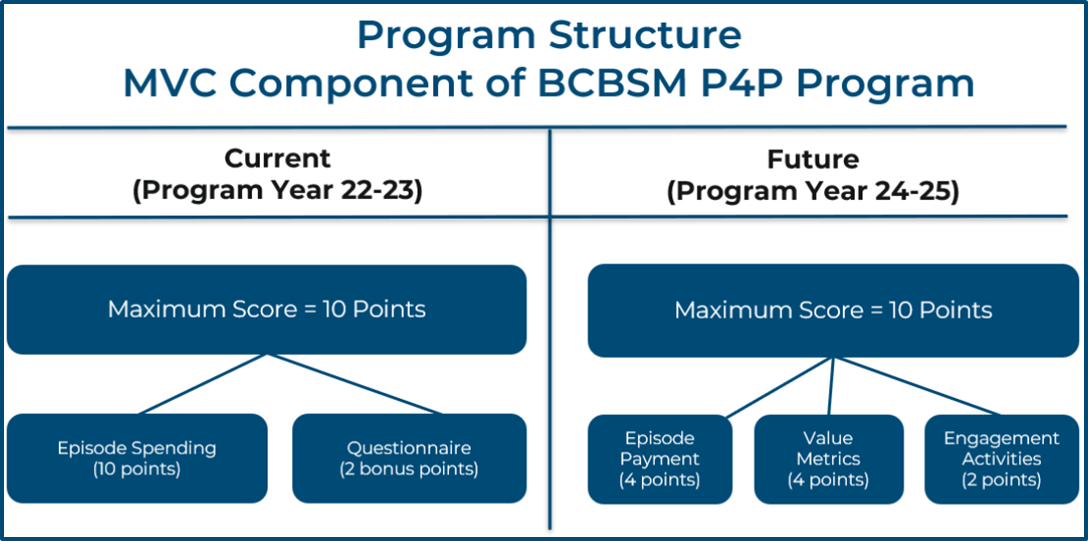 Based on member feedback, MVC will be rolling out an updated methodology to improve the actionability of the program. Along with the existing 30-day episode of care component, MVC is introducing new value metrics and engagement metrics for PYs 2024 and 2025. The value metrics will incentivize evidence-based and actionable high-quality services, such as increasing cardiac rehabilitation utilization after percutaneous coronary intervention (PCI), increasing follow-up rates after hospitalizations for pneumonia, or decreasing preoperative testing prior to low-risk procedures. The engagement metric will award points to hospitals for attending and contributing to MVC engagement activities, such as attending both semi-annual meetings or presenting at a workgroup. Stay tuned for additional details on PYs 2024 and 2025; informational webinars on the program changes are coming soon.
Showcasing MVC's new pharmacy claims data from BCBSM and Blue Care Network was a focal point for the meeting. MVC Senior Analyst Monica Yost led attendees through an overview of MVC's current pharmacy claims data along with an unblinded data session focused on opioid overprescribing after joint surgery (see Figure 2 for a blinded version of utilization across the collaborative). Leveraging opioid prescribing recommendations from the Michigan Arthroplasty Registry Collaborative Quality Initiative (MARCQI), the data session allowed hospitals and POs to see their opioid prescribing rates in the 30 days following hip and knee replacements compared to their peers. Hospitals and POs performing well were invited to offer insights as to how this was achieved and what mechanisms other members could adopt to improve performance levels.
Figure 2.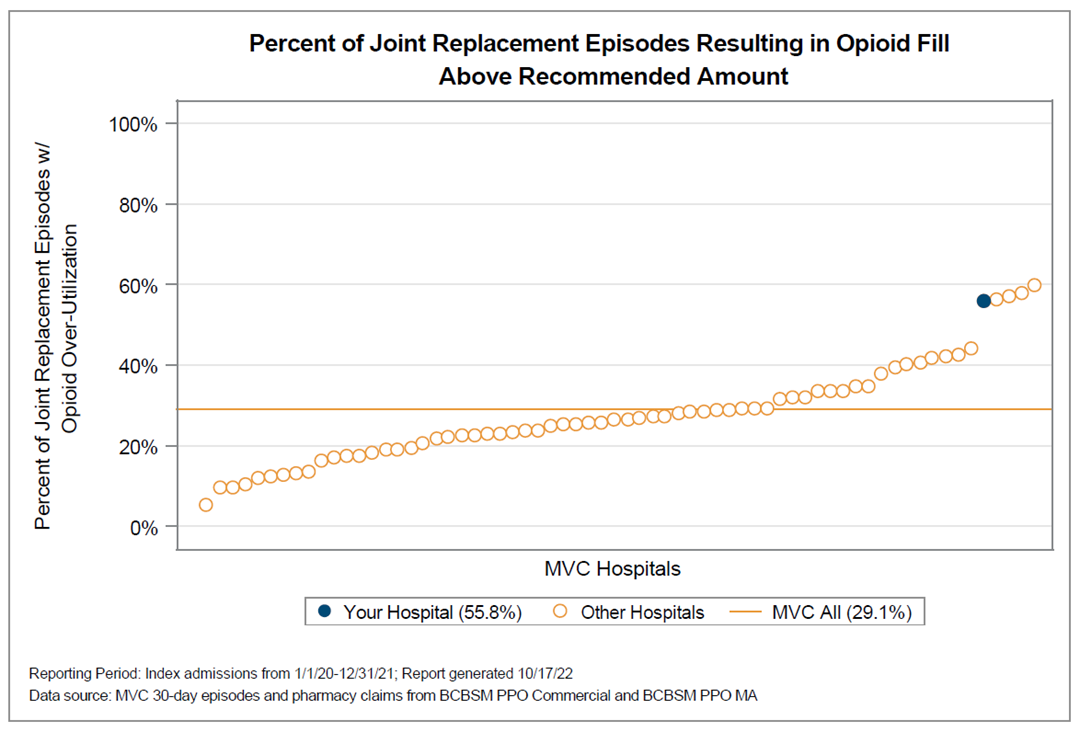 With the scene set, MVC welcomed keynote speaker Lindsey Kelley, Associate Chief of Pharmacy at Michigan Medicine. Dr. Kelley provided attendees with an overview of the challenges patients face accessing high-cost, complex medications as well as opportunities to improve access and patient experience through integrated health system specialty pharmacy. Walking through Michigan Medicine's model, Dr. Kelley noted that simplifying the workflow for specialty pharmacies reduces strain on clinic staff (i.e., physicians, nurses, medical assistants) and eliminates the instances of prescriptions being sent that cannot be filled, thereby reducing gaps in therapy starts. Sharing the model's evaluation strategy, Dr. Kelley highlighted the project's collaboration with MVC, which led to a larger proportion of all target specialty medication prescription fill data being tracked and extended the evaluation's reach.
Following Dr. Kelley's presentation, Troy Shirley, PharmD, MBA, System Director of Pharmacy for Bronson Healthcare, presented Bronson's efforts to improve health equity through pharmacy-supported discharge initiatives. One initiative focused on medication reconciliation at discharge, which leveraged unit-based pharmacists to complete medication reconciliation for patients hospitalized with chronic obstructive pulmonary disease, pneumonia, heart failure, and acute myocardial infarction. Additionally, Bronson's "Meds to Beds" program engaged a multi-disciplinary team that included a retail pharmacist, pharmacy, technician, unit nurse, and care manager to hand-deliver patients' medications at the bedside and provide medication counseling prior to discharge.
Next on the agenda was a presentation from Tiffany Jenkins, PharmD, BCACP, Director of Population Health Pharmacy at Trinity Health Alliance of Michigan, who shared insights about population health pharmacy initiatives within a physician organization, including a diabetes medication management initiative focused on evidence-based diabetes management to improve quality of care, reduce inappropriate use of pharmaceuticals, and lower cost of care; a pharmacy tech-led medication adherence monitoring strategy to engage patients, providers, and care teams in appropriate medication use; an obesity medication management initiative focused on evidence-based utilization of chronic weight management medications to lower cost of care; and a comprehensive medication management project that leverages pharmacist-care team collaboration to support medication management.
Closing out the morning session, Mark Bicket, MD, PhD, Co-Director of the Opioid Prescribing Engagement Network (OPEN) and Assistant Professor with the Division of Pain Research, Department of Anesthesiology at the University of Michigan, presented information on shifts to prescribing recommendations after surgery to decrease opioid use, techniques to promote the adherence of non-opioid medications and non-pharmacological approaches to pain management, and strategies to maximize safe storage and disposal of controlled substances.
In the afternoon following a networking lunch, the presenters participated in a panel discussion moderated by MVC Co-Director Michael Thompson, PhD, MPH. The group discussed strategies to change provider behavior and navigate the challenges of pharmacy-related improvement initiatives. The meeting concluded with a summary of the day and upcoming MVC activities, led by MVC Associate Program Manager Erin Conklin. The slides from Friday's meeting have been posted to the MVC website. If you have questions about any of the topics discussed at the fall 2022 semi-annual meeting or are interested in finding out more, please reach out to the Coordinating Center at Michigan-Value-Collaborative@med.umich.edu. MVC's next semi-annual meeting will be in person on Friday, May 19, 2023, at the Vistatech Center in Livonia.