MVC launched a new push report this week dedicated to the MVC P4P conditions. Its purpose is to support hospitals in identifying areas of opportunity within past and present conditions of the MVC Component of the Blue Cross Blue Shield of Michigan (BCBSM) Pay-for-Performance (P4P) Program. The conditions currently included in P4P and in this report are chronic obstructive pulmonary disease (COPD), congestive heart failure (CHF), colectomy (non-cancer), coronary artery bypass graft (CABG), joint replacement (hip and knee), pneumonia, and spine surgery. Acute myocardial infarction (AMI) is also included in this report as a historical P4P condition. Hospitals received a page for each condition if they met a case count threshold of 11 episodes in 2019 and 2020.
This report was limited to episodes included in the P4P program with index admissions in 2019 and 2020, and thus included the following payers: BCBSM Preferred Provider Organization (PPO), BCBSM Medicare Advantage, Blue Care Network (BCN) Health Maintenance Organization (HMO), BCN Medicare Advantage, and Medicare Fee-For-Service (FFS). To align with the P4P program, MVC excluded patients with a discharge disposition of inpatient death or transfer to hospice, episodes that started with an inpatient transfer, and episodes with a COVID-19 diagnosis on a facility claim in the inpatient setting. To fully exclude COVID-19 patients, pneumonia episodes in March 2020 were also excluded.
The reports provided data on hospital trends in episode payments, readmission rates, post-acute care utilization, and emergency department utilization for P4P patients. Data from the push report can be used in conjunction with the registry reports to inform areas of opportunity in the P4P conditions. The push reports also provided a snapshot of each hospital's P4P patient population (see Figure 1), including race, mean age, and the average number of comorbidities.
Figure 1. Patient Population Snapshot for Blinded Hospital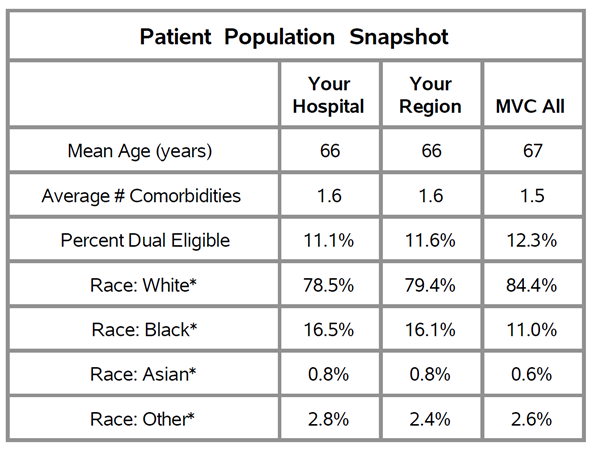 For Critical Access Hospitals (CAHs), the report also included index length of stay. For acute care hospitals, the report included a "reasons for readmissions" table that identified the top five reasons a P4P patient was readmitted. However, this table was removed from the report's joint replacement page due to low readmission rates among joint replacement surgeries. In its place, acute care hospitals received their ratio of outpatient to inpatient surgeries.
As with other push reports, hospitals were compared to other members in the collaborative for select measures. For acute care hospitals, each hospital's report includes a comparison point for all MVC episodes ("MVC All") as well as for episodes at hospitals in the same geographic region ("Your Region"). These reference points do not include episodes that occurred at hospitals with a CAH designation. Similarly, the reports distributed to CAHs included comparison points for MVC episodes at all CAHs in the collaborative ("CAH Average").
This report takes the place of the cardiac service line reports, which included data on CHF, AMI, and CABG. The new P4P conditions push report uses many of the same measures and figures from the cardiac service line reports, but for the complete list of P4P conditions.
For more information on the MVC Component of the P4P Program, see the MVC P4P Technical Document. Please share your feedback on the newest P4P conditions push report with the MVC Coordinating Center at michiganvaluecollaborative@gmail.com.