With an enhanced strategic focus on health equity, the MVC Coordinating Center was excited to share refreshed versions of its health equity push report this week. The health equity report was first launched in August 2021 in response to growing interest from members as well as widening gaps in health outcomes for patients with a lower socioeconomic status. The purpose of the report is to help members better understand their patient population, and the newest version re-examines some of the original findings. It also adds data to help providers identify the most impacted patients and understand how their care differs from patients with a higher socioeconomic status.
The report distributed this week provided a comparison of Medicaid patients to Blue Cross Blue Shield of Michigan (BCBSM) and Blue Care Network (BCN) patients, whereas the first iteration compared outcomes of dual-eligible versus non-dual-eligible Medicare patients. Therefore, one change from the previous report is that the patients included are much younger on average. This report incorporated index admissions from 1/1/2018 – 9/30/2021 for BCBSM PPO Commercial and BCN HMO Commercial and from 1/1/2018 – 12/31/2020 for Medicaid. Members who received reports will see comparisons between these two groups for total episode payments, length of stay, 30-day readmission rates, 30-day post-discharge emergency department utilization, and 30-day post-discharge office visit rates.
Despite utilizing different payer data, insurance type was still a good predictor of health outcomes in the report. The Coordinating Center continued to see poorer outcomes across the board for those patients who were publicly rather than privately insured – a finding that is consistent in the research literature as well. These disparities were most pronounced among medical conditions than surgical procedures.
This report continued to look at post-acute care trends but narrowed its focus to office visits specifically. This is because there were significant differences in office visit rates by insurance type in the previous report and skilled nursing facility use was much less relevant within this report's younger patient population. When looking at office visit utilization, the rates were significantly different between BCBSM/BCN and Medicaid patients for both medical conditions (see Figure 1) and surgical procedures. However, the disparity was more pronounced in medical conditions. MVC saw a decrease in office visits in early 2020 across the state that is believed to be related to the pandemic, but visits returned to pre-pandemic rates in the latter half of the year. Furthermore, episodes were excluded from this report if they contained a confirmed diagnosis code of COVID-19 in the first three diagnosis code positions of any inpatient facility claim.
Figure 1. Office Visit Trend Graph from Blinded Report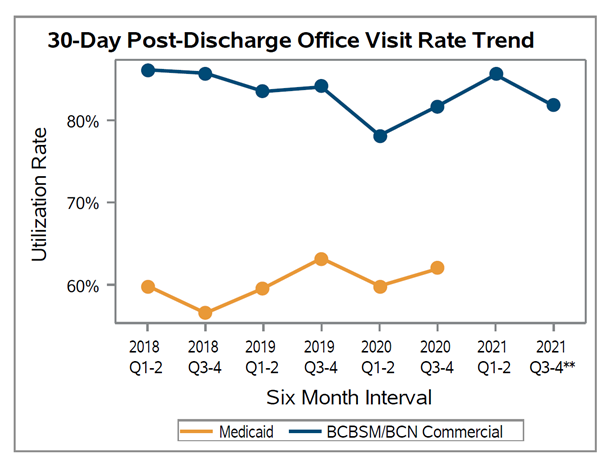 Another key change to the report was the addition of a patient population demographics table (see Figure 2), which provides the hospital with age, race, zip code, and comorbidity information for Medicaid versus BCBSM/BCN patients. Overall, the most common comorbidity across the state was diabetes, and the Medicaid population was younger on average.
Figure 2. Demographics Table from Blinded Report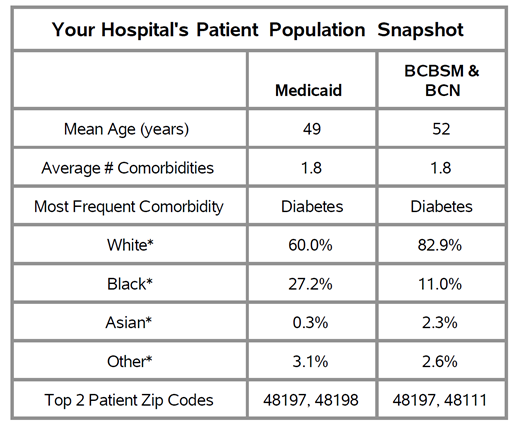 Like the first version of the report, there was a conscious decision to exclude comparison groups. This is because the socioeconomic factors of a hospital's patient population cannot be changed, and there is great diversity between hospitals throughout the state and within geographic regions. For those reasons, benchmarking was not the intention of this report. However, it is important to note that across the state, the data analyzed by the MVC Coordinating Center consistently indicates that Medicaid patients have poorer outcomes than privately insured patients, including longer lengths of stay, higher readmission rates, higher post-discharge emergency department utilization, and lower rates of office visits post-discharge.
The MVC Coordinating Center is eager to support members in improving health equity. Please consider sharing feedback on this report with the Coordinating Center, as well as attending MVC's newest workgroup on health equity to learn and share with peers. If you have any questions, comments, or suggestions, please contact the Coordinating Center at michiganvaluecollabortative@gmail.com.