The Michigan Value Collaborative has always been deeply interested in fostering a collaborative learning environment that enables providers to learn from one another in a cooperative, non-competitive space. In support of that priority, the Coordinating Center completed hospital site visits in 2021 in order to better understand the priorities and activities of its member hospitals and identify common projects that may benefit from practice sharing. The site visits included an overview of MVC resources and services, followed by a discussion with the hospital about their processes, stakeholders, and current initiatives. In total, MVC completed 58 hospital site visits that provided valuable information for the benefit of the collaborative.
At the conclusion of this undertaking, MVC documented 178 quality improvement initiatives. These were compiled in a database that is searchable by content area, provider, and project status, among other details. This allows MVC to understand common themes and challenges among all its members as well as within particular subgroups by hospital size or region. Projects related to hospital readmissions and patient or provider safety were the most common among member hospitals (see Figure 1), with 47 and 46 different projects accounted for, respectively.
Figure 1.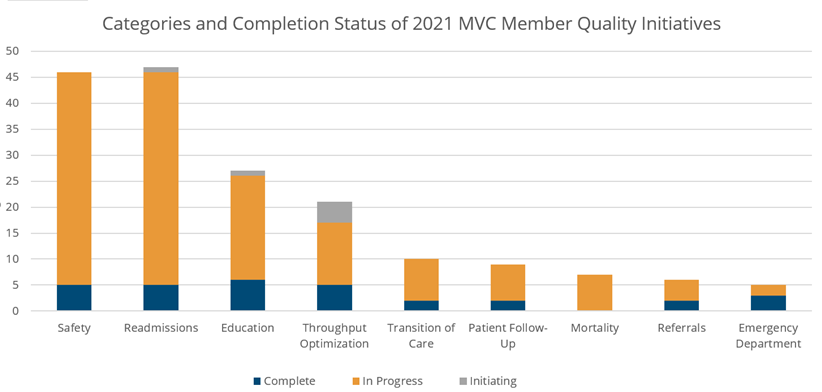 All initiatives were reviewed in order to identify common themes as defined by members. The top 10 most common categories for quality initiatives in 2021 from most to least cited are:
Readmissions
Patient and provider safety
Patient and provider education
Throughput optimization
Transitions of care
Patient follow-up
Mortality
Referrals
Emergency department
COVID-19
The bulk of these quality improvement projects from 2021 are still in progress today, with at least 80% reportedly in progress and about 17% complete. This means that the vast majority of sites enacting quality initiatives in the above areas may still benefit from the lessons learned and advice of peers who are working on similar initiatives. To initiate conversations between members with similar quality improvement projects, the MVC Coordinating Center has begun the process of making email introductions between members. This is already taking place for members who request custom analytic reports. As custom requests are prepared and returned, the Coordinating Center reviews its database of quality initiatives to identify projects related to the findings of that report. A custom report may, for example, identify areas of opportunity in 30-day readmission rates or home health agency utilization. If a peer institution already has a quality initiative underway to improve 30-day readmission rates and care transitions, MVC will connect those members to encourage idea sharing and cooperative learning.
In 2022, MVC has plans to hold site visits with its physician organization (PO) members, which will add a valuable perspective to the database and help the Coordinating Center to further support POs as well as facilitate hospital-PO partnerships.
The MVC Coordinating Center is excited to add to and leverage this database as both an added resource for custom requests as well as a library of practice standards for members. It will also help MVC to identify potential speakers on areas of quality improvement that are of interest to most members. If you are interested in connecting with peers who are implementing similar quality improvement initiatives, please reach out to the Coordinating Center at michiganvaluecollaborative@gmail.com.