The COVID-19 pandemic affected hospital operations in a myriad of ways, with many Michigan Value Collaborative (MVC) members experiencing circumstances that could impact their score on the MVC Component of the BCBSM Pay-for-Performance (P4P) program. In order to mitigate some of the effect of COVID-19, the MVC Coordinating Center introduced two extra bonus points to be earned for Program Year 2021 only. One bonus point can be achieved by attending both MVC semi-annual events; the first was held in May and the second will be held in October. The second bonus point can be earned by undertaking a virtual site visit with the MVC Coordinating Center.
To date, the Coordinating Center has completed 26 site visits, and a further 25 "visits" are scheduled with a variety of hospitals around the state. During these 90-minute virtual visits, MVC provides an overview of the collaborative, our data, and engagement activities. Hospitals receive a quality improvement slide (Figure 1) in advance that they complete and return prior to their scheduled date. These responses drive the main discussion of the site visit.
Figure 1.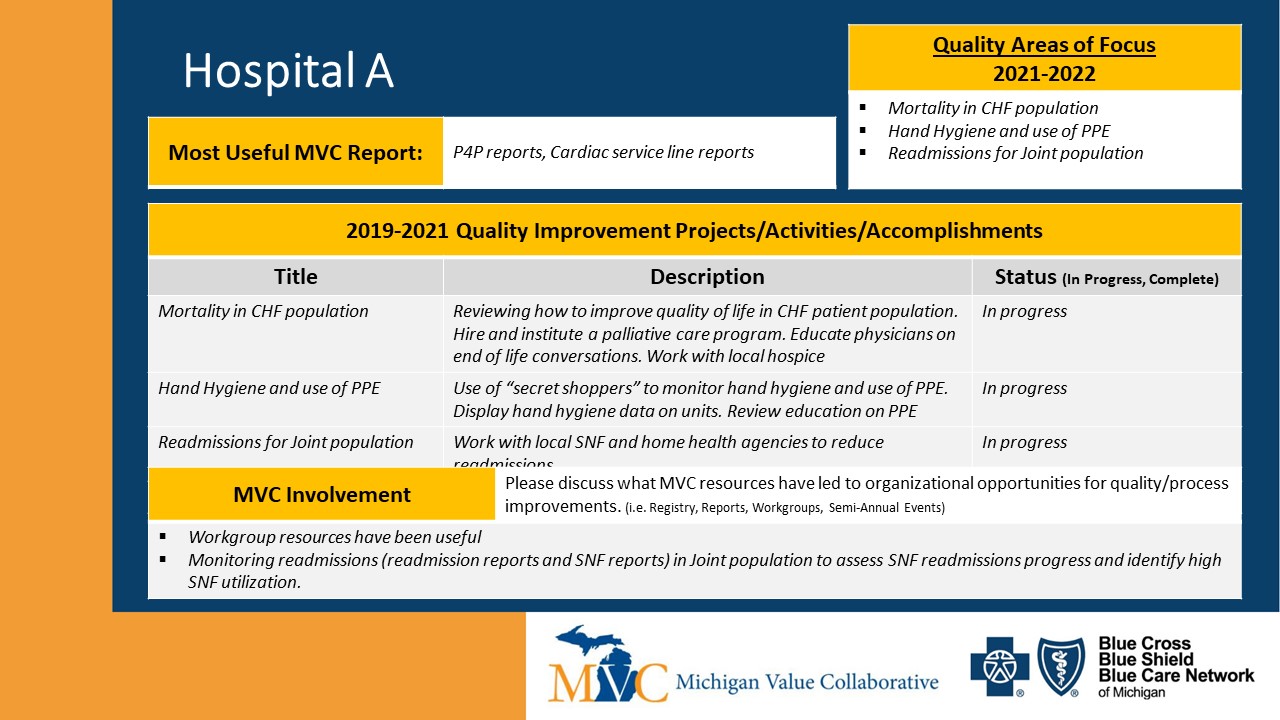 Much has been learned about various quality improvement projects being implemented and what hospitals are focusing on for 2021 and 2022. MVC plans to use the information from these slides to connect hospital members with peers interested in implementing similar projects.
In addition, the Coordinating Center is interested in learning: who is utilizing the registry and any individualized reports, the types of MVC data that are most useful, and any challenges hospitals have with using the data. This feedback will help MVC make improvements to the registry and individualized reports to make them more actionable for members.
Finally, the hospital relationship with physician organizations (POs) is discussed. One of MVC's goals is to help facilitate collaboration between POs that have patients attributed to each hospital, especially in the patient outcomes and quality of care arenas.
If you have not yet scheduled a site visit, please do so here. Slots are available between now and October. If you have any questions or would like further information on a site visit, please contact the MVC Coordinating Center at michiganvaluecollaborative@gmail.com.