Figure 1.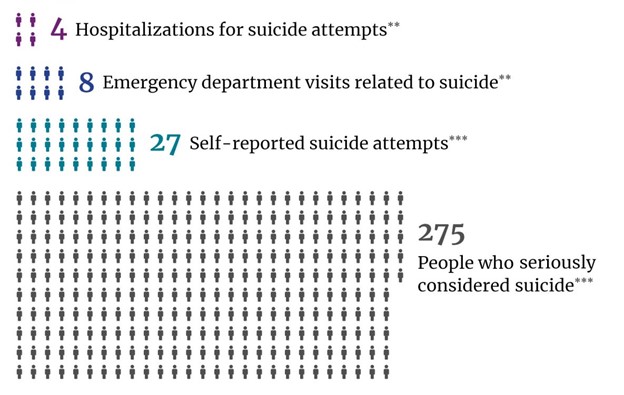 In response to this significant health need in Michigan, Blue Cross Blue Shield of Michigan partnered with Henry Ford Health to launch a new Collaborative Quality Initiative (CQI) called the Michigan Mental Innovation Network and Program Design (MI Mind). The MI Mind Coordinating Center team brings providers, health systems, and suicide prevention experts together to reach shared goals of improving suicide prevention, care, and access to key behavioral health services in Michigan. Its mission is to engage psychiatrists, psychologists, and primary care physicians in the use of care pathways to reduce suicides in Michigan significantly.
The core program is a collaboration with provider organizations that aims to determine and implement system-specific suicide prevention elements and use data to implement rapid cycle quality improvement processes. MI Mind hopes to assess what levels and characterizations of risk are most urgent and can be addressed by clinicians to inform recommendations for suicide prevention and quality improvement. The MI Mind program will help facilitate enhanced collaboration and referrals among behavioral health and primary care clinicians and promote purposeful screening for suicidal risk. The MI Mind team aims to train clinical staff using the well-established Zero Suicide protocol and anticipates the program will improve patient support, enable more effective and efficient healthcare, and reduce suicide rates.
The MI Mind collaborative is co-led by Program Director Brian Ahmedani, PhD, LCSW, who is internationally recognized for his work in suicide prevention and the Director for the Center for Health Policy and Health Services Research at Henry Ford Health; and Program Director Cathrine Frank, MD, a practicing and board certified psychiatrist widely regarded as the original clinical architect of the Zero Suicide program and Chair of the Department of Psychiatry and Behavioral Health Services at Henry Ford Health.
For more information on MI Mind, visit their website, where a variety of easy-to-use, organized tools and materials or available for the benefit of primary care providers, behavioral health professionals, patients, and their loved ones. Providers may also contact the MI Mind Coordinating Center at MiMIND@hfhs.org. In addition, the 988 Suicide and Crisis Lifeline (previously the Suicide Prevention Lifeline) is available to provide equitable and accessible suicide prevention support across the United States.
As the Michigan Value Collaborative (MVC) continues to build its offerings for members, the Coordinating Center is mindful that many other CQIs also partner with hospitals and providers throughout Michigan. MVC posts recurring feature blogs about some of its peer CQIs to showcase their activities and highlight collaborations with MVC. Please reach out to the MVC Coordinating Center with any suggestions or questions.