MVC hosted another successful session of its new health equity workgroup last week with a guest presentation by Ariane Donnelly, MPH, RD, Health Promotion Coordinator at the Washtenaw County Health Department. The new health equity workgroup was established in response to a greater strategic focus on health equity within the MVC Coordinating Center as well as widespread interest in this topic within the healthcare field.
The March 16 workgroup focused on the Prescription for Health program, which takes a unique approach to chronic disease management by connecting the medical system with the food sector. It operates by having participating healthcare providers assign "prescriptions" to their patients to eat more fruits and vegetables. These prescriptions can then be "filled" at local participating farmers markets, where patients receive $100 in tokens to spend on fresh fruits and vegetables as well as nutrition education and support. Participants also work with Community Health Workers to set health goals. The program leverages the fact that Michigan is the second most agriculturally diverse state in the country, and its abundant farmers markets can be an asset in supporting healthy lifestyles for patients.
Evaluation of the program's effectiveness has been fruitful. For every year of the program, the health department found a statistically significant increase in self-reported fruit and vegetable intake, often by one cup or serving per day (see Figure 1).
Figure 1.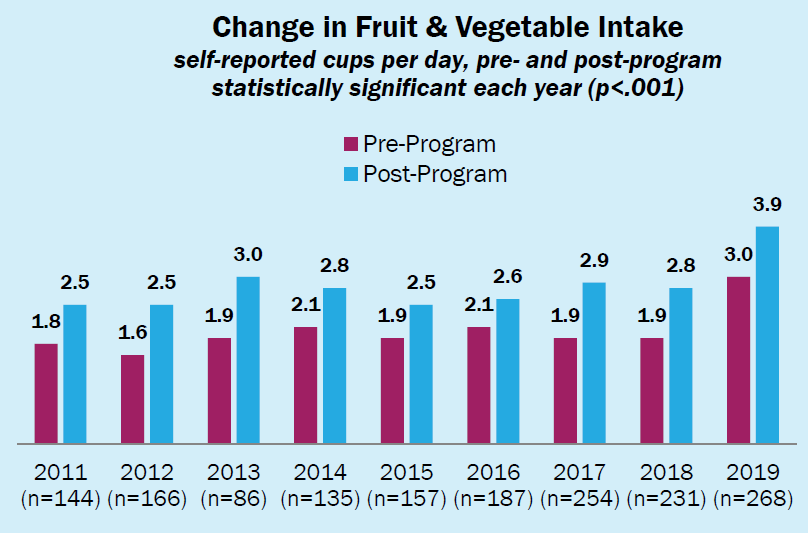 The program was first created in 2008 in response to high levels of food insecurity within communities in Washtenaw County combined with generally low consumption of fruits and vegetables, both of which are associated with an increased risk of chronic disease. Ms. Donnelly pointed out that while many clinics provide nutrition advice, patients face multiple barriers to equitably accessing healthy foods and need additional support. Since its first pilot, the program has continued to grow in total enrollees and economic impact, and it maintained its participation levels throughout the pandemic with a modified version of the program.
Similar programs are in operation in other parts of the state and country as well, such as Food Rx in Chicago and Fresh Prescription in Detroit. Washtenaw County's Prescription for Health program launched an implementation toolkit in 2016 to help others with starting a similar program in their area.
To learn more about the Prescription for Health program's operations, impact, and lessons learned, watch the full recording of the workgroup here: https://bit.ly/3IyIsnS. You can also visit the program website for more information: www.washtenaw.org/prescriptionforhealth.
MVC will continue to invite guest speakers with valuable insights on a more equitable health system. The next MVC health equity workgroup will take place on Tuesday, May 10, from 1-2 p.m. If you would like to suggest a topic or speaker for a future workgroup, please contact the MVC Coordinating Center at michiganvaluecollaborative@gmail.com.
Prescription for Health is funded by Saint Joseph Mercy Health System with additional financial support from multiple partners.