The Michigan Value Collaborative (MVC) held a bi-monthly virtual workgroup recently on chronic obstructive pulmonary disease (COPD), a condition that accounts for the majority of deaths from chronic lower respiratory diseases and is continuously a leading cause of death in the United States. Notably, COPD is nearly two times as prevalent in rural areas as it is in urban areas; therefore, MVC members in rural areas may be dealing with significant inequities within their patient populations. The workgroup presentation and discussion focused on the COPD National Action Plan (CNAP). To the Coordinating Center's surprise, many workgroup participants had not previously heard of the CNAP, making this event a great opportunity for practice sharing and discussion among members.
Overcoming barriers to prevention, early diagnosis, treatment, and management of COPD is necessary to improve quality of life and reduce mortality. To address these barriers, the U.S. Congress; National Heart, Lung, and Blood Institute; and Centers for Disease Control and Prevention convened a town hall where they asked federal and nonfederal partners to develop an action plan. These partners were tasked with identifying the efforts needed to change the course of COPD. The result was the development of the COPD National Action Plan (CNAP), which was released in 2017 and updated in 2019. It consists of five goals, which were outlined and discussed during the workgroup (see Figure 1).
Figure 1. Slide from COPD Workgroup Presentation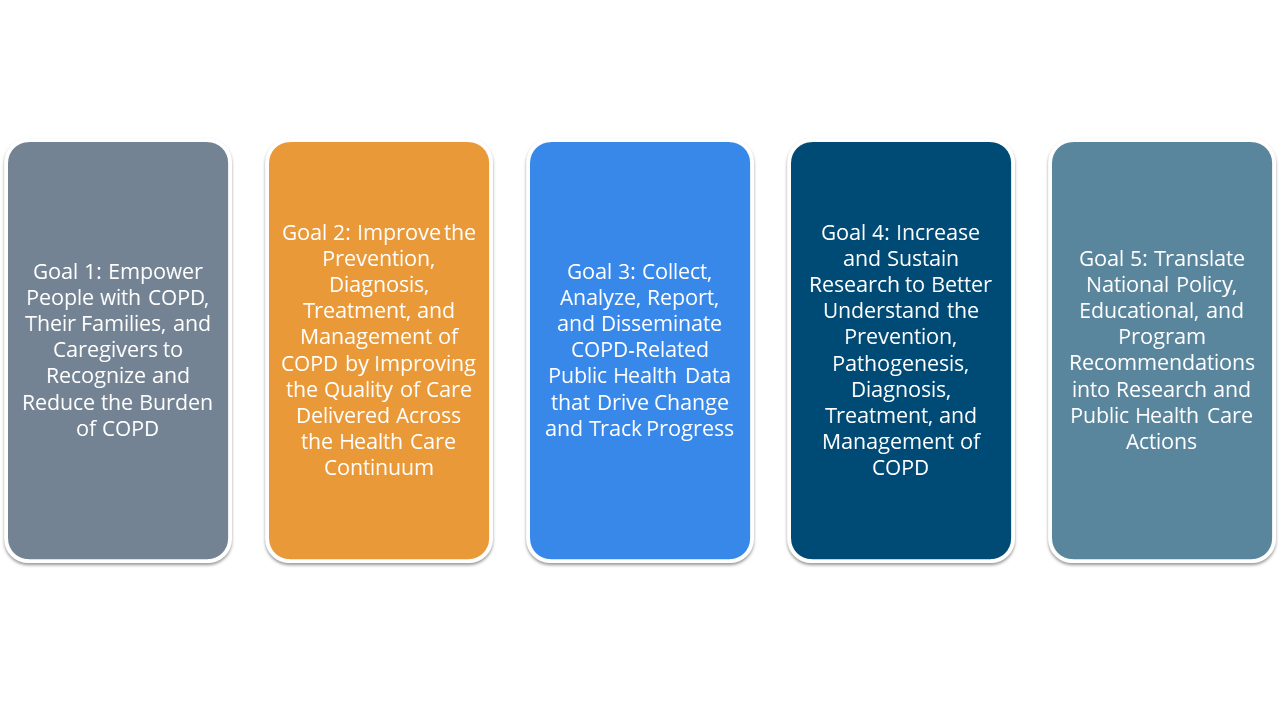 Goal 1 calls for promoting more public awareness and understanding of COPD, especially among patients and their caregivers. Key opportunities include patient and caregiver education that is sustainable and culturally appropriate, technological support mechanisms, and connecting patients and caregivers to local and state resources.
Goal 2 focuses on increasing the skills and education of healthcare providers so they are better equipped to provide comprehensive care. This goal is supported by the development and dissemination of patient-centric, clinical practice guidelines for care delivery, the use of technological support mechanisms, and consideration of home-based pulmonary rehabilitation programs. It's important to note that studies have found no statistically or clinically significant differences for health-related quality of life and exercise capacity among patients who have completed home-based vs. outpatient-based pulmonary rehabilitation.
Goal 3 encourages increased data collection, analysis, and sharing to create a better understanding of disease patterns. Opportunities within this goal include supporting pharmaceutical and clinical COPD research; identifying and delivering comprehensive, evidence-based, culturally appropriate interventions; and disseminating findings to a variety of audiences (from patients to national policymakers).
Goal 4 aims to increase and sustain COPD research to improve understanding of the disease and its diagnosis and treatment. It's vital that clinicians, researchers, and health policy experts foster research across the COPD continuum (prevention, diagnosis, treatment, management). Workgroup attendees agreed that there are opportunities to improve equity among COPD patients through more data on diagnosed and undiagnosed COPD in disadvantaged patients. Another vital component of this goal is supporting and sustaining pharmaceutical research for COPD medications since none of the existing medications for COPD have been shown to reduce the progressive decline in lung function.
Goal 5 calls for federal and nonfederal partners to collaborate to meet the objectives of the CNAP and translate its recommendations into research and action. Workgroup attendees highlighted the importance of implementing CNAP equitably among both urban and rural regions and implementing COPD strategies at all health policy levels (national, state, local). Such opportunities could improve access to cost-effective and affordable COPD support services and expand support for and access to pulmonary rehabilitation services (including home-based PR), thus reducing health inequities among COPD patients.
Each of the five CNAP goals is equally important and vital in reducing COPD health disparities. Although many of the MVC workgroup participants had not heard of the CNAP before, they were interested in sharing its goals and opportunities with others in their healthcare organization. If you would like to learn more about this patient-centered national action plan, you can read the full published report here. If your organization has addressed the CNAP goals or implemented any of the discussed opportunities, the MVC Coordinating Center would like to hear about the successes, challenges, and lessons learned. If you would like to share this information or present at an upcoming MVC workgroup, please email MVC at michiganvaluecollaborative@gmail.com.