Since its inception earlier this year, the Michigan Cardiac Rehabilitation Network (MiCR) has sought to equitably increase cardiac rehabilitation (CR) participation for all eligible individuals in Michigan. A key step in this process has been to assemble an engaged group of stakeholders that share this vision from around the state, which culminated in the first MiCR Annual Meeting on October 7, co-hosted by MVC and the Blue Cross Blue Shield of Michigan Cardiovascular Consortium (BMC2). Over 40 attendees representing institutions throughout Michigan came to Ann Arbor to present and discuss ongoing challenges facing CR utilization, and to brainstorm solutions that could be implemented across the state.
The first session of the meeting discussed strategies to cultivate buy-in from clinicians and administrators to support CR for their patients and health systems. Dr. Frank Smith, MD, from Trinity St. Joseph Mercy Ann Arbor discussed the importance of identifying and educating the key administrators and clinicians within the organization and developing a rigorous financial plan for a growing CR program. Jacqueline Harris, BS, CCEP, from McLaren Northern Michigan discussed how she developed small, laminated cards that mapped out the process to get eligible patients to CR, which she distributed to clinical teams within her institution. Rob Snyder, EP, MSA, from McLaren Greater Lansing emphasized the importance of continual monitoring and engagement with clinical and administrative leadership to ensure CR program growth.
Following the presentations, small group discussions among attendees identified other challenges related to achieving buy-in from clinicians and administrators. The referral phase was a consistent source of frustration for many attendees, including delays in referral from qualifying events, inefficient referral processes that require physician action, and limited staffing to close the gap from referral to enrollment. The session panelists noted that implementing automatic referrals and recruiting a physician champion can help facilitate referrals among colleagues with lower referral rates.
The second session of the day focused on navigating challenges with insurance coverage for CR programs. Robert Berry, MS, ACSM-CEP, FAACVPR, from Henry Ford Health discussed strategies to minimize insurance delays in starting CR. It is critical to know the regulations and policies that guide CR so that staff can work within them to reduce delays to enrollment. Like the prior session, implementing automatic discharge order sets that include CR for eligible patients can minimize delay, but more work may be needed within an institution to work through pre-authorizations that often accompany CR use. Dedicated liaisons can be a critical resource for addressing insurance issues and securing enrollment during the hospital stay. Jacqueline Evans of Covenant HealthCare reiterated the importance of understanding the regulations and policies of major insurers and developing tools to educate colleagues and patients. Being the local expert can ensure the financial health of the CR program and minimize the insurance burden for patients.
The day's final session featured discussions about how to better engage patients and providers in CR. Greg Merritt of Patient is Partner discussed his experience with CR—having survived a cardiac event and benefitted from participating in CR—and how patients could be involved to improve the CR experience. Integrating former graduates of CR programs into the orientation process may help alleviate fear and concerns facing new attendees. He also challenged the group to think about how CR could be reshaped to reflect the patient population or foster better adherence through engaging with community partners such as dog shelters or social groups. Patients are often an untapped resource and can help innovate CR to improve participation.
The Healthy Behavior Optimization for Michigan (HBOM) collaborative closed out the day with a brainstorming session on how attendees might innovate the current CR system to create better experiences and outcomes for all patients. Attendees raised challenges that face vulnerable populations, such as access to nutritional foods and health literacy. Solutions to these issues could include standardized and accessible resources for patient education and opportunities to provide nutritional support to patients such as grocery delivery services. Developing peer support systems and community-building among CR graduates may also facilitate a better introduction to new patients and improve long-term adherence to behavior changes developed during the program.
Several next steps were identified at the conclusion of the meeting. First, the MVC and BMC2 collaboratives will continue to work towards broader dissemination of CR reports to relevant stakeholders in Michigan. MVC's latest CR reports were distributed to MVC and BMC2 members this week. In these reports, members can see how their CR utilization rates compared to their peers throughout Michigan within 90 days of discharge following transcatheter aortic valve replacement (TAVR), surgical aortic valve replacement (SAVR), coronary artery bypass graft surgery (CABG), percutaneous coronary intervention (PCI), acute myocardial infarction (AMI), and congestive heart failure (CHF). The reports also included figures for the mean number of days to a patient's first CR visit and the mean number of CR visits within 90 days. Since these reports were the first version released following the May announcement of new collaborative-wide CR goals, the reports also include figures detailing a hospital's rates relative to those goals (see Figure 1). The first goal is to reach 40% CR utilization for TAVR, SAVR, CABG, PCI, and AMI patients. Currently across the collaborative, 30% of patients utilize CR following one of these "main five" procedures. The second statewide goal is a collaborative-wide utilization rate of 10% for CHF patients since only about 3% of CHF patients currently utilize the program.
Figure 1.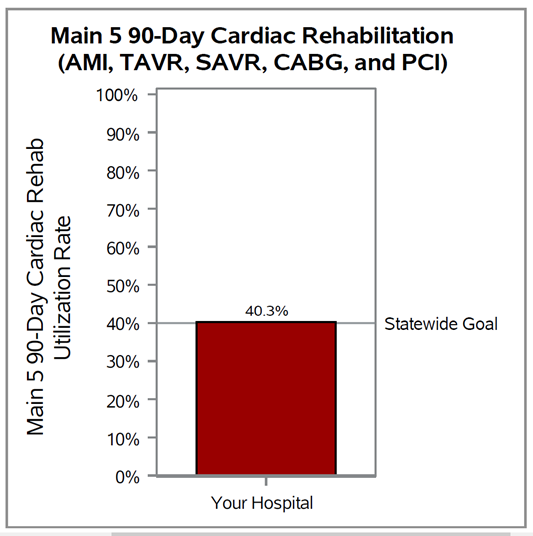 In addition to report dissemination, several other next steps were identified at the conclusion of the recent MiCR meeting. A second next step was to collate resources that have been developed by individual institutions for broader dissemination. In addition, continued collaboration between the MiCR and HBOM teams will seek to develop solutions that address key behavioral factors and barriers to CR. Lastly, the MiCR team will continue to develop relationships and provide content that works towards its mission of improving CR participation for all eligible individuals in Michigan. If you are interested in collaborating with the MiCR team, please reach out to MVC or BMC2.