The Michigan Value Collaborative (MVC) distributed its chronic disease management (CDM) push report recently, which has been refreshed and reframed from its previous iterations. Originally termed the CDM congestive heart failure (CHF) report and the CDM chronic obstructive pulmonary disease (COPD) report, the new "CDM follow-up report" focuses more specifically on follow-up care after hospitalization for the two conditions.
The newest version aims to provide additional granularity into follow-up care at member hospitals by showcasing variability across different windows of time, across payers, and by type. MVC defines follow-up as episodes where a patient had an outpatient follow-up visit (in person or by telehealth) within 30 days or before a readmission, inpatient procedure, emergency department visit, skilled nursing facility admission, or visit for inpatient rehabilitation.
The report features a new patient population snapshot table that highlights demographic data. These tables (see Figure 1) provide each hospital with demographics for their CHF/COPD patient populations, including race, mean age, the average number of comorbidities, and the proportion of patients who are dual-eligible.
Figure 1.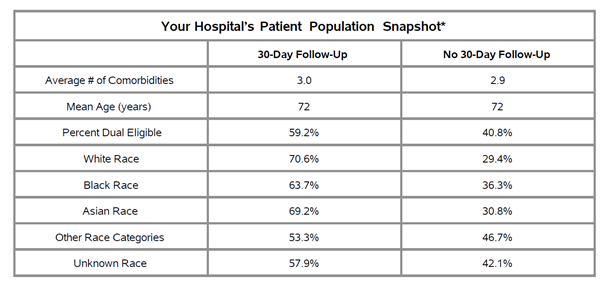 MVC hospitals will see comparisons to their peers on 7-day, 14-day, and 30-day outpatient follow-up rates, as well as 30-day risk-adjusted total episode payments and 30-day outpatient follow-up rates stratified by payer. Members will also see their individual hospital's breakdown of follow-up types at 30 days, and trends over six months for 3-, 7- and 14-day rates.
Each figure presented reflects index admissions from 1/1/18 – 12/31/20 for Blue Cross Blue Shield of Michigan (BCBSM) PPO Commercial, Blue Care Network (BCN) Commercial, BCBSM PPO Medicare Advantage, BCN Medicare Advantage, Medicare Fee-For-Service, and Medicaid. Hospitals received report pages for each condition if they met the threshold of at least 11 episodes in each year of data for that condition.
There was wide variation in follow-up rates across the collaborative, with member follow-up rates ranging from less than 40% after 30 days to approximately 80% (see Figure 2). In addition, 30-day follow-up rates were lowest within the Medicaid patient population with an MVC average of 58% (see Figure 3); the collaborative-wide averages for 30-day follow-up among BCBSM/BCN and Medicare patients were 76% and 73%, respectively. It was also the case that most patients (92% on average) received follow-up care in person as opposed to a remote or hybrid option (see Figure 4).
Figure 2.

Figure 3.

Figure 4.

The CDM follow-up report was distributed in partnership with the Integrated Michigan Patient-Centered Alliance in Care Transitions (I-MPACT) Collaborative Quality Initiative (CQI). I-MPACT is a unique patient-centered, data-driven collaborative that engages hospitals and provider organizations throughout Michigan in developing and implementing innovative approaches for improving care transitions. They work to improve the transition of patients between care settings with the goal of bettering outcomes and reducing readmissions.
In addition to partnering with I-MPACT to expand the report's reach, MVC also partnered with a CQI to provide members with supplemental materials that may be relevant to their work with CHF/COPD patients. The Healthy Behavior Optimization for Michigan (HBOM) CQI provided tobacco cessation materials that were shared alongside the MVC report, including a Quit Smoking Resource Guide and Quit Smoking Medication Guide. HBOM aims to ensure that all smokers who are interested in quitting receive the support and resources they need to be successful. Read more about HBOM's materials and efforts in MVC's May CQI spotlight blog.
In addition to continuing to offer its CDM push report, the MVC Coordinating Center offers a bimonthly CDM workgroup. The next workgroup will take place on Tuesday, July 12 from 1-2 p.m., and will feature a presentation about the Sparrow Pain Management Center's Care Management Program. Please register today to join the MVC Coordinating Center for this presentation and discussion.
If you have any suggestions on how these reports can be improved or the data made more actionable, the Coordinating Center would love to hear from you. MVC is also seeking feedback on how collaborative members are using this information in their quality improvement projects. Please reach out at michiganvaluecollaborative@gmail.com.