The Michigan Value Collaborative (MVC) held its second collaborative-wide meeting of 2023 last Friday. A total of 98 leaders registered, representing 56 different hospitals, 9 physician organizations (POs), and 7 stakeholder organizations from across the state of Michigan. This meeting's theme of "High-Value Care for All: Collaborative Approaches to Equitable Healthcare" focused on how interdisciplinary collaboration can support efforts to reduce disparities and provide equitable healthcare.
MVC Director Hari Nathan, MD, PhD, kicked off Friday's meeting with an update from the MVC Coordinating Center (see slides). He welcomed MVC's newest team members - Data Analysts Jiaying "Janet" Zhang and Kushbu Narender Singh, Senior Data Analyst Kim Fox, and Engagement Manager Jessica Souva – and highlighted the successes delivered by the Coordinating Center since May's collaborative-wide meeting. One highlight was the release of MVC's 2023 Qualified Entity Public Report with refreshed data for 30-day unplanned rehospitalization for patients discharged to home health after high-volume medical and surgical episodes, as well as measures of post-discharge outpatient follow-up for congestive heart failure (CHF) and chronic obstructive pulmonary disease (COPD). To reflect MVC's ongoing commitment to providing meaningful data in a way that reflects best practices for diversity, equity, and inclusion, Dr. Nathan also shared MVC's revised approach to race and ethnicity reporting, which lists racial and ethnic identities in alphabetical order, removes the categories of "other" and "unknown," and includes two additional categories in MVC reporting. Finally, Dr. Nathan highlighted MVC's recent push report offerings. Hospital and PO members received the new emergency department-based episode report as well as the new skilled nursing facility and home health utilization report. Hospital members received their Mid-Year Scorecard for Program Year 2023 of the MVC Component of the BCBSM Pay-for-Performance (P4P) Program, as well as refreshed versions of the CHF and COPD follow-up report, common conditions report, and sepsis report.
Following the MVC Updates, Dr. Nathan introduced its keynote speaker, Renée Branch Canady, PhD, MPA, who serves as CEO of the Michigan Public Health Institute (MPHI) and is a recognized national thought leader in the areas of health inequities and disparities, cultural competence, and social justice. Rooting the advancement of health equity in a systems-thinking approach, Dr. Canady encouraged attendees to address upstream change (Figure 1) by seeing differently, saying differently, and doing differently (see slides).
Figure 1.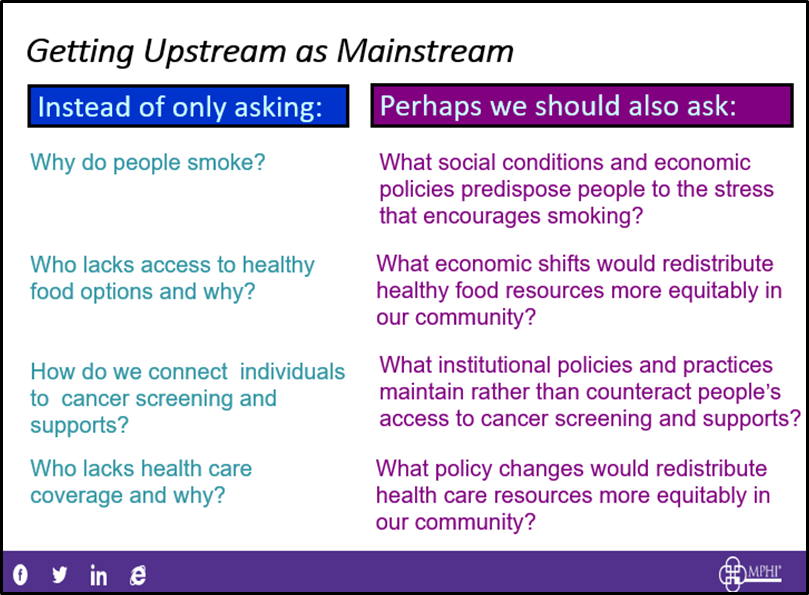 Following Dr. Canady's presentation, Senior Data Analyst Julia Mantey, MPH, MUP, led a presentation about combining MVC claims data and social determinants of health (SDOH) data sets for regional equity analyses (see slides). The session began with a review of statewide heat maps for the following MVC measures: 1) follow-up after hospitalization for CHF, 2) emergency department visits after CHF hospitalization, and 3) readmission after CHF hospitalization. Then, Ms. Mantey introduced the SDOH database managed by the Agency for Healthcare Research and Quality (AHRQ), a public database linkable to MVC data by county and Zip code (Figure 2).
Figure 2.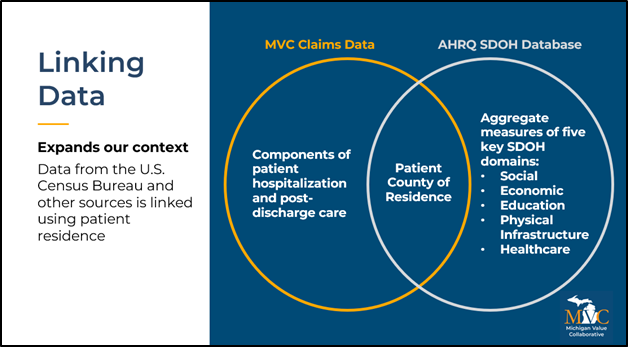 From the AHRQ SDOH database, MVC incorporated data from the American Community Survey (U.S. Census Bureau), Homeland Infrastructure Foundation-Level data (U.S. Department of Homeland Security), and Provider of Service Files (U.S. Department of Health & Human Services, Centers for Medicare and Medicaid Services) to illuminate potential barriers to care. Statewide heatmaps were presented for 1) the percentage of households with no internet access, 2) the percentage of households with no computing device, 3) the percentage of households with no vehicle available, and 4) the percentage of households with public assistance income or SNAP benefits. Following Ms. Mantey's presentation, Nora Becker, MD, PhD, explained the value of area-level SDOH metrics and how such data can be used in partnership with healthcare utilization data to provide a more robust picture of factors influencing patient outcomes (see slides).
Following Dr. Becker's remarks, a poster session began, providing an opportunity to highlight recent quality improvement successes and encourage networking across the collaborative. The MVC Coordinating Center would like to thank the poster presenters. Electronic copies of the posters are available in batches of four each here, here, and here.
Following a networking lunch, attendees participated in one of three breakout sessions (Group 1, Group 2, or Group 3). The breakout sessions were geographically based and focused on regional snapshots of the American Community Survey data along with unblinded data for readmissions after CHF hospitalization. In each breakout session, hospital and PO members discussed opportunities to support patients and explored how MVC could support hospital and PO members going forward (Figure 3).
Figure 3.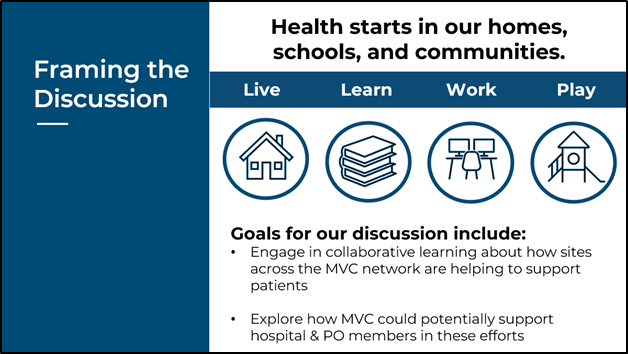 Following the breakout sessions, the group reconvened for roundtable discussions. During the session, attendees visited three tables of their choosing, where they learned about the work of the roundtable speaker, asked questions, and discussed the table topic with their peers. The MVC Coordinating Center would like to thank its roundtable speakers (Figure 4) for sharing their work and expertise: Nora Becker, MD, PhD, University of Michigan (association of chronic disease and patient financial outcomes); Diane Hamilton, BAA, CEP, Corewell Health Trenton (transportation barriers for cardiac rehabilitation patients); Noa Kim, MSI, HBOM (jumpstart grocery delivery program for patients with Type 2 diabetes); Matthias Kirch, MS, MSHIELD (best practices for anti-racist data collection and patient screening); Laura Mispelon, MHA, Michigan Center for Rural Health (supporting healthcare needs in rural communities); Thomas Pierce, LMSW, MPA, U-M Health West (SOGI data collection); Amanda Sweetman, MS, Trinity Health Michigan (hospital-based farm programs to support healthy food access); and Larrea Young, MDes, HBOM (tobacco cessation resources for providers and patients).
Figure 4.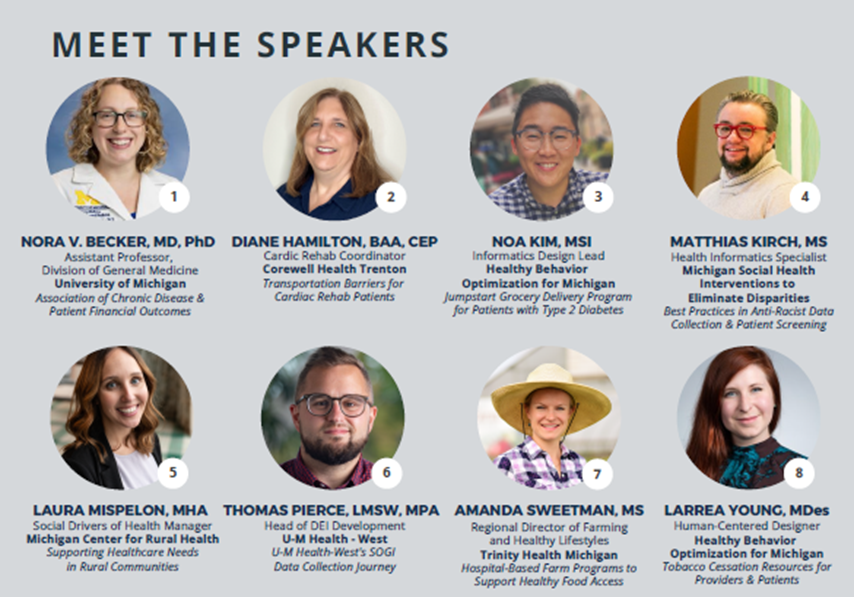 Following the roundtable session, MVC Co-Director Michael P. Thompson, PhD, MPH, concluded the meeting with an update on the MVC Component of the Blue Cross Blue Shield of Michigan (BCBSM) Pay-for-Performance (P4P) Program (see slides). It was noted Program Year 2023 bonus point surveys are due on Wednesday, November 15, 2023, and MVC will be hosting a Program Year 2024 engagement point webinar to review the new engagement point menu on Thursday, November 9, 2023, at 12 p.m.
If you have questions about any of the topics discussed at MVC's fall 2023 collaborative-wide meeting or are interested in following up for more details, contact the Coordinating Center. MVC's next collaborative-wide meeting will be in person on Friday, May 10, 2024, in Midland.