Quality improvement is a key effort for healthcare systems and a driving force behind the work of the Michigan Value Collaborative. It is also an increasingly complex task with significant implications. Not surprisingly, quality improvement is not a one-size-fits-all approach, with the challenges impacting hospitals varying significantly by factors such as size and location. This variability showcases the importance of sharing tailored resources among Collaborative members.
Critical-access hospitals (CAHs) are the newest type of members to join the Collaborative. They play an important role in the healthcare system by caring for rural patients who might not otherwise have access to inpatient services. Defined as hospitals maintaining no more than 25 acute care beds and located more than 35 miles from the nearest hospital, they are unique in their populations, services, and structure. The majority of their patients would have to drive 30 minutes or more for an alternative hospital, and many communities have no alternative. Their offerings and size are reflective of the communities they serve, with services such as emergency care, inpatient care, laboratory testing, rehabilitation, long-term care, maternity care, home health care, and even primary care. As a result, their capacities, priorities, and challenges differ from those of their larger colleagues, as do their quality improvement efforts.
For example, a 2015 report from the National Quality Forum titled, "Performance Measurement for Rural Low-Volume Providers," highlights several challenges to quality improvement in rural areas including fewer providers, lack of information technology, and fewer people to share the workload. Furthermore, rural hospitals often don't meet patient volume thresholds that are required for meaningful comparative analyses. It is critical, therefore, that CAH facilities are connected to resources tailored to their circumstances. One such resource is the 2021 Small Rural Hospital Blueprint for Performance Excellence and Value, produced by the National Rural Health Resource Center.
The purpose of this Blueprint is to aid rural hospital leaders in taking a comprehensive systems approach to quality improvement using factors and strategies relevant to small rural hospitals. Guided by the components of the Baldrige Framework that first took hold in healthcare over 20 years ago, the Blueprint outlines typical challenges, factors for success, and relevant resources for seven key inter-linked focus areas (see Figure 1): leadership; strategic planning; patients, partners, and communities; measurement, feedback, and knowledge management; workforce and culture; operations and processes; and impact and outcomes.
Figure 1.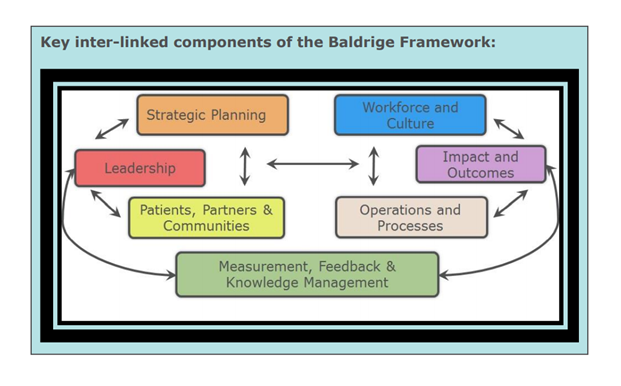 The Blueprint also incorporates specific comments and feedback shared during the Small Rural Hospital Performance Excellence Summit that was held in the spring of 2021. For instance, within the section on leadership, the Blueprint suggests that educating and engaging the CAH's board members on healthcare trends and issues is a critical factor of success, in large part because board members in rural areas often do not have a healthcare background. A quote from the Summit on this issue reads, "changes in healthcare are complicated, particularly for those that don't spend all day every day focused on it." The Blueprint then recommends resources listed in its appendix that are specifically designed for engaging CAH board members. In addition, a full companion resource focused on related strategies and resources for state flex programs is also available.
CAHs are an important piece of the healthcare puzzle and, like their larger colleagues, they stand to benefit significantly from quality improvement efforts. In fact, an October 2019 CMS fact sheet, "CMS Hospital Value-Based Purchasing Program Results for Fiscal Year 2020," looked at adjustments made for Medicare payments to hospitals based on their performance on a set of quality measures. Compared to urban hospitals, rural and smaller hospitals generally performed better in both efficiency and cost reduction, among other areas.
The MVC Coordinating Center established regions within its membership in order to help hospitals network and share practices with their peers. Many of the CAH members within the Collaborative operate in region 1 in the northern parts of the state, and a regional networking event was held for region 1 earlier this week. The Coordinating Center is proud of its diverse membership and continues to encourage facilities and POs to leverage the knowledge of peers who operate in a similar capacity so that, together, members can improve the value of healthcare for Michigan patients. If your facility or PO is utilizing a resource that would benefit the work of a peer institution, please contact the Coordinating Center at michiganvaluecollaborative@gmail.com so it may be shared with the Collaborative.