Today, the leading preventable cause of death, disease, and disability in the United States is tobacco use. National studies show that 70% of smokers want to quit, but in Michigan only about 15% receive treatment. This critical gap is the current focus of one of the newest population health Collaborative Quality Initiatives (CQIs) in the Blue Cross Blue Shield of Michigan (BCBSM) Value Partnerships portfolio. The Healthy Behavior Optimization for Michigan (HBOM) CQI aims to ensure that all smokers who are interested in quitting receive the support and resources they need to be successful.
HBOM's mission is to make "the healthy choice the easy choice," which is accomplished in this case by providing tobacco cessation support throughout the state of Michigan through value-based reimbursement (VBR). In 2022, nine CQIs committed to working with HBOM to provide targeted, just-in-time tobacco cessation support to seize on their "teachable moment." This approach draws on evidence-based behavior change strategies that leverage unique shifts in patient motivation around major health events, when they may find new motivation to commit to positive health behaviors like smoking cessation.
HBOM works with hospitals, clinics, and care teams across the state of Michigan through its partner CQIs to promote healthy behaviors among patients. They also provide partner CQIs and their respective members with the infrastructure and metrics to measure the impact of these changes. Although HBOM is primarily concerned with three health behaviors (smoking cessation, healthy eating, and physical activity), smoking cessation is their current focal point.
HBOM's smoking cessation tools and resources are available in both paper and electronic formats to ensure equitable access, and are being shared widely at the patient, physician, and organization levels. Clinicians can share these materials with patients to increase access, awareness, and utilization of smoking cessation opportunities. One example includes a "Tap for Support" near-field communication (NFC) badge (see Figure 1) that clinicians and healthcare staff can wear for patients to scan with their phone, providing them with instantaneous online smoking cessation tools and resources.
Figure 1.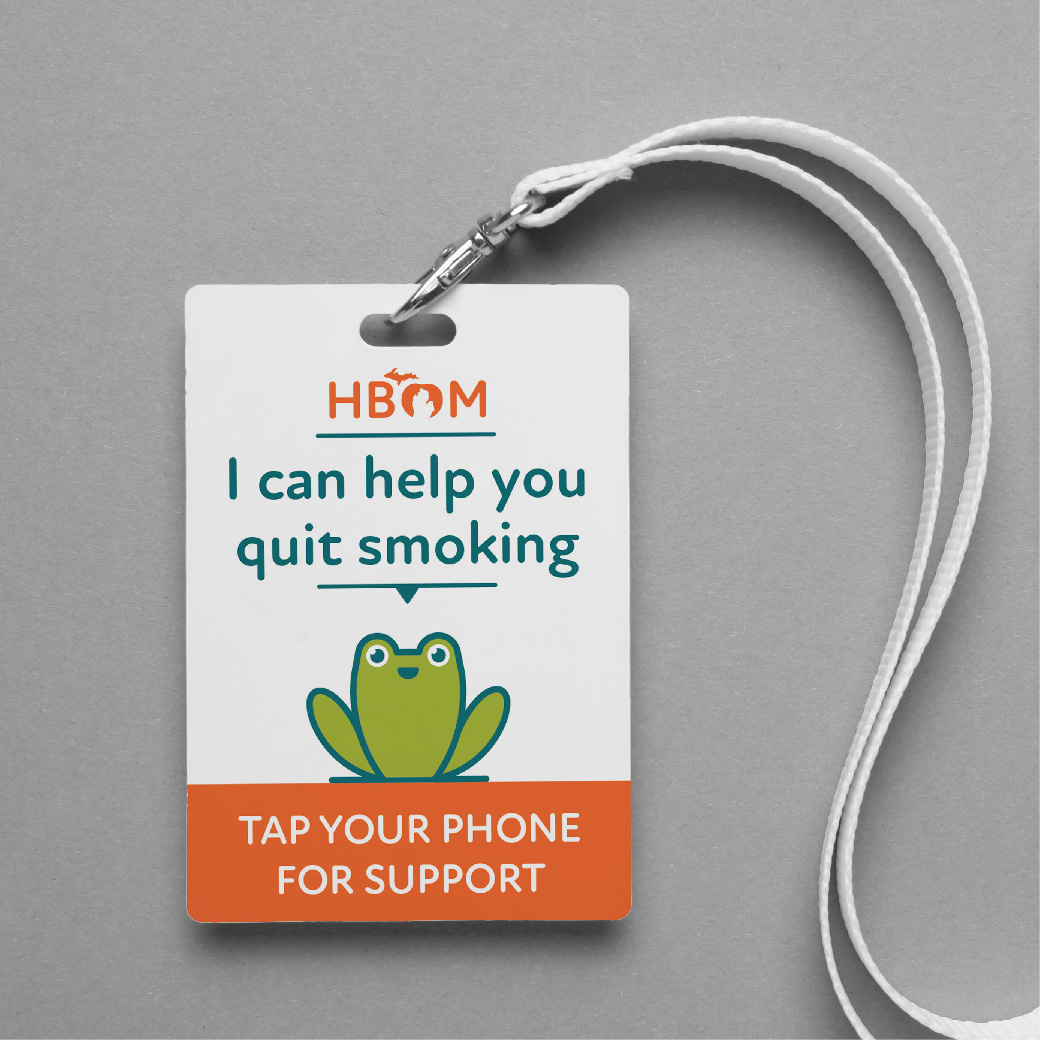 Figure 2.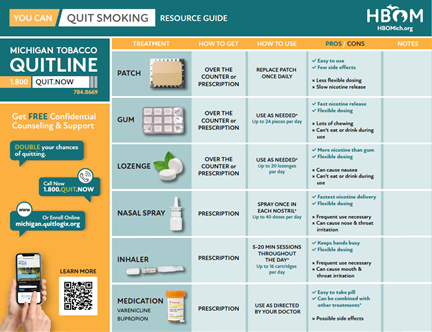 When CQIs and their members wish to learn more or provide support beyond the resources mentioned above, they can connect with HBOM to discuss state-wide smoking cessation metrics, best practices, challenges, and collaboration opportunities. The HBOM collaborative meets regularly with participants and partnering CQIs to address challenges and improve population health. The team is also closely connected with the Michigan Tobacco Quitline and resource recommendations delivered by text message for anyone who wishes to quit smoking.
The MVC and HBOM teams have discussed plans to include HBOM resources in future relevant MVC report communications, such as those chronic conditions that are related to tobacco use. In the meantime, hospitals and physicians can request their own tobacco cessation boxes (see Figure 3).
Figure 3.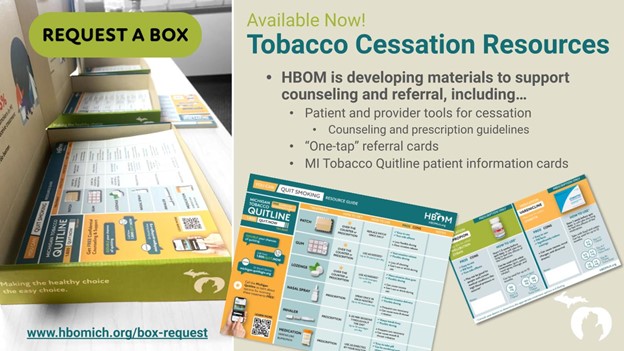 For more information on HBOM, visit their website.
As the Michigan Value Collaborative (MVC) continues to build its offerings for members, the Coordinating Center is cognizant that many other CQIs also partner with hospitals and providers throughout Michigan. Throughout 2022, MVC will post a series of blogs about some of its peer CQIs to showcase their activities and highlight collaborations with MVC. Please reach out to the MVC Coordinating Center with any suggestions or questions.