Black History Month is an opportunity to celebrate the triumphs and reflect on the struggles of African American or Black persons throughout the history of the United States. In honor of this celebration, the MVC team is highlighting some of the Black pioneers who opened doors to medical fields and advanced the field of health through research.
It seems logical to begin by highlighting the work of James McCune Smith (Figure 1), notably America's first Black physician. He received a medical degree from the University of Glasgow in 1837, when African Americans were denied admission to medical schools in the U.S. He also later became the first Black man to operate a pharmacy as well as the first Black author to be published in a medical journal. He applied his scientific mind and expertise to debunking poor science, outdated assumptions, and racist theories related to African Americans. As an abolitionist and close friend of Frederick Douglass, he wrote the introduction to Douglass' book, My Bondage and My Freedom.
Figure 1.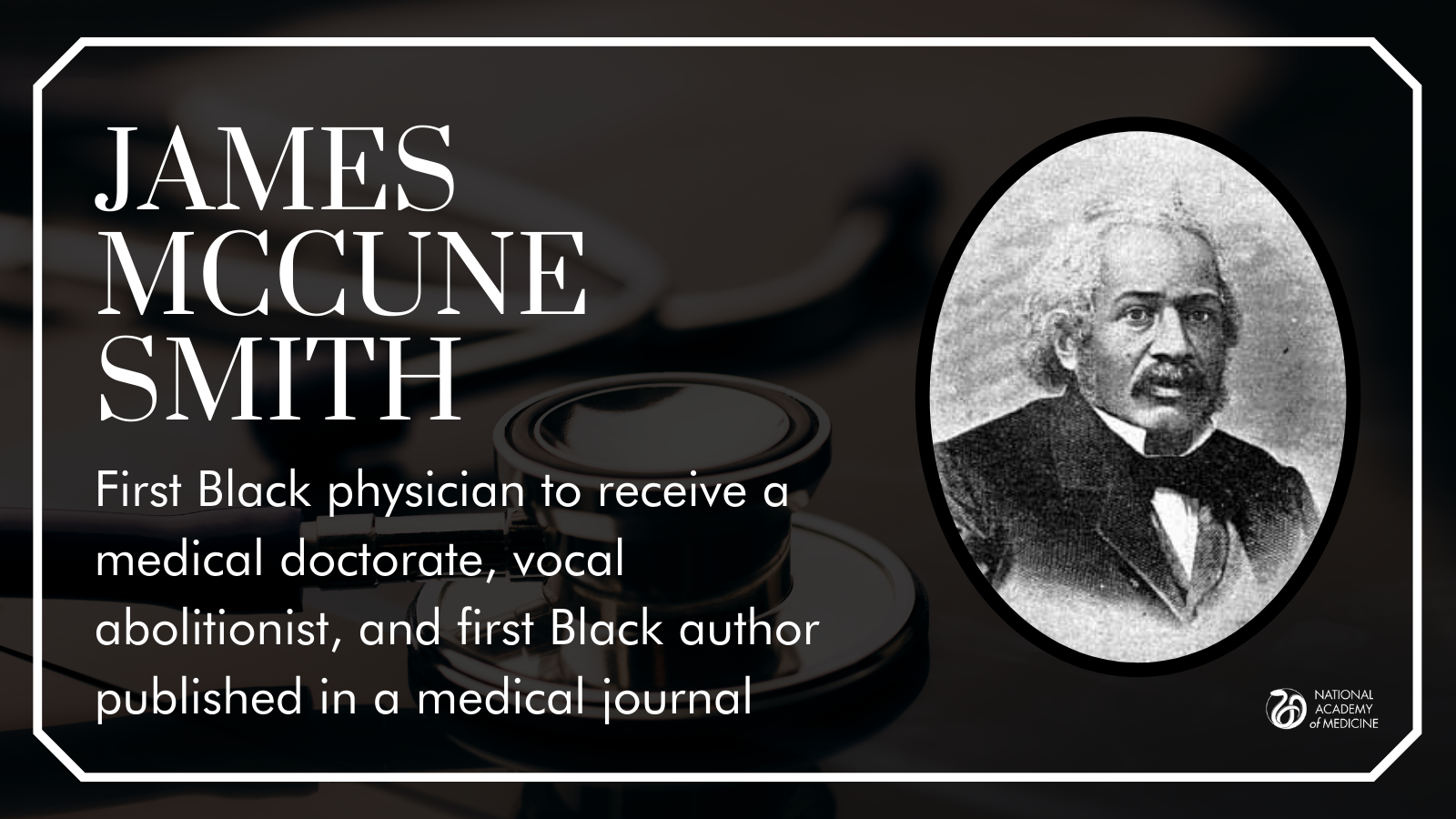 He was followed by many inspiring African American and Black healthcare providers who made history in their respective fields. There were leaders such as Daniel Hale Williams (1856-1931), who founded the Provident Hospital and Training School for Nurses in Chicago, America's first Black-owned and interracial hospital. He is also known for having performed the world's first successful heart operation, which saved the life of a man who had been stabbed in the chest.
Then there was Robert F. Boyd (1858-1912) who in 1895 co-founded the National Medical Association, the nation's oldest and largest organization representing Black physicians and health care professionals. He served as its first president.
Alexa Canady (Figure 2), born in 1950, is also a Black physician of great strength and impact. She fought her way into one of the most competitive and exclusive fields of medicine when she became the first Black female neurosurgeon in the U.S. in 1981. She is an alumnus of the University of Michigan Medical School who specialized in pediatric surgery. She became chief of neurosurgery at the Children's Hospital of Michigan from 1987 until her retirement in June 2001.
Figure 2.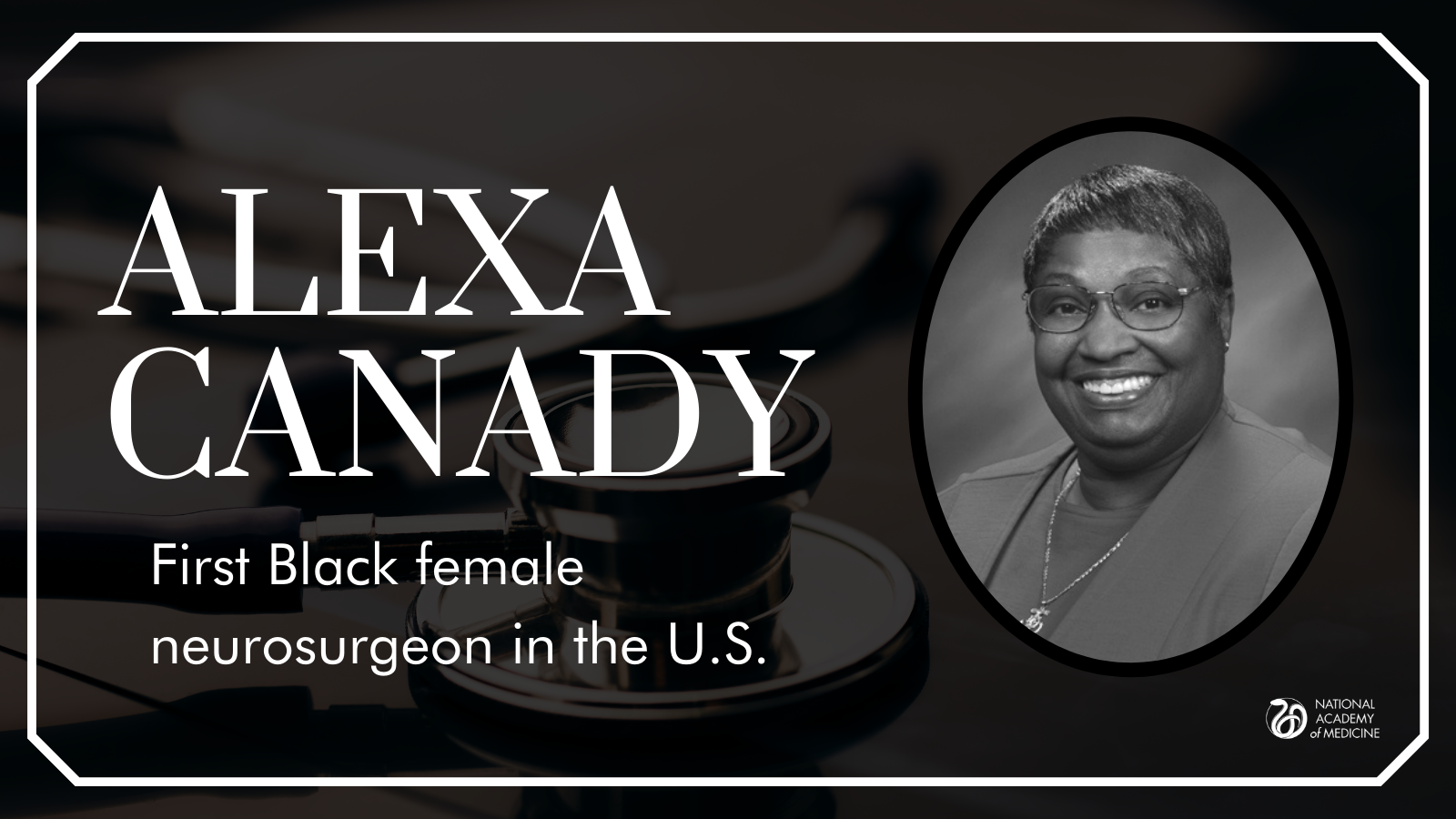 As representation and institutional support grew, so too did the voice of African Americans in published medical research. Prominent physician and researcher Charles Richard Drew (1904-1950) studied blood transfusions and helped develop large-scale blood banks deployed during World War II. Patricia Bath (1942-2019), an ophthalmologist dedicated to blindness prevention in marginalized communities, was the first Black female physician to be awarded a medical patent for her invention of a laser cataract treatment.
A wealth of researchers working today dedicate their expertise to studying disparities, race, and ethnicity in healthcare. The Agency for Healthcare Research and Quality (AHRQ) honored Black History Month recently by highlighting the work of its grantees. Dr. Fabian Johnston, for instance, studies early utilization of palliative care for African Americans using culturally informed patient navigation, and Dr. Mya Lee Roberson evaluates geographic variation in breast cancer surgical outcomes among Black women in the South. AHRQ's spotlight for Black History Month also includes an expansive list of recent research findings and publications related to race and health equity.
These professionals and countless others had a profound impact on medicine, research, and society. However, Black History Month is also a time to acknowledge the struggles and ongoing challenges experienced by the African American and Black communities. While much of the 20th and 21st centuries allowed for a series of "firsts," they also bore witness to abhorrent racism that resulted in gruesome experiments, forced sterilizations, harmful research studies, and undertreatment for pain. As a result, there is rampant mistrust of the healthcare system within the Black community, even among some medical professionals. This was evident throughout the COVID-19 pandemic; hospitalized patients who did not trust healthcare providers were less likely to believe they were at increased risk of severe illness and were less likely to become vaccinated.
The MVC Coordinating Center is committed to emphasizing equitable care in Michigan by providing members with equity metrics and collaboration opportunities. The MVC team set several concrete goals to share research findings and resources throughout 2023 in service of members' equity-related initiatives. Some of these resources may be used to build communication and trust with patients and solicit their input on healthcare practices.
In addition, those who follow MVC on Twitter or LinkedIn will see additional stories about African American medical pioneers throughout the remainder of February. If you have a colleague or individual you would like to nominate to be featured this month, please contact the MVC Coordinating Center at Michigan-Value-Collaborative@med.umich.edu.