MVC distributed its final push report of 2021 this week when the Coordinating Center distributed preoperative testing reports to members. It provided recipients with refreshed data using only Blue Cross Blue Shield of Michigan claims in order to provide the most up-to-date and granular preoperative testing information available.
In general, the report demonstrated significant variation in testing rates between members, with preoperative testing rates ranging from 20% to over 90%. The average overall testing rate was 56% when looking at only the BCBSM payers, whereas the rate was 62% when looking at all payers in the earlier version of the report from February of 2021. The report included overall testing rate (Figure 1), preoperative testing rate trends over time (Figure 1), and rates for specific tests and procedures.
Figure 1. Blinded Preoperative Testing Push Report Graphs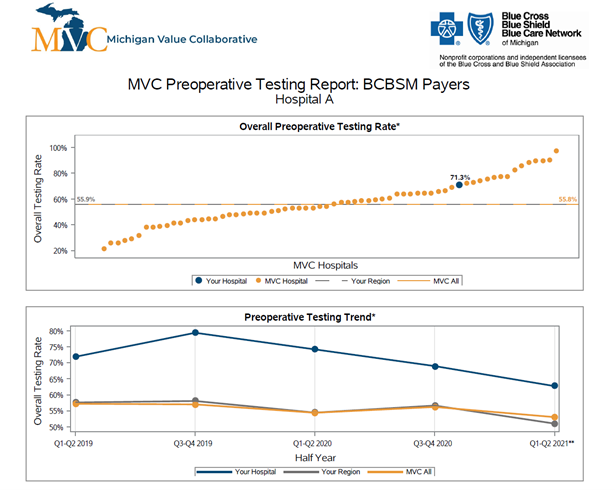 Due to the amount of variation, MVC suspects that preoperative testing is overused at the state level such that even hospitals that are average or below average may still have significant opportunities to safely reduce preoperative testing.
Preoperative testing, especially in low-risk surgical procedures, often provides no clinical benefits to patients. Despite this, these services continue to be ordered regularly at hospitals across Michigan. Eliminating unnecessary and, in some cases, potentially harmful preoperative testing represents a clear opportunity to improve value in surgery. The MVC Coordinating Center uses administrative claims data and engagement with MVC members to try and reduce the use of unnecessary preoperative testing for surgical procedures to improve quality, reduce cost, and improve equity of care delivery throughout Michigan. The MVC Coordinating Center's work on this issue is supported by a stakeholder working group to advise ongoing activity and provide insights on the best approaches to improve member awareness and practices.
This latest preoperative testing report also marked the conclusion of one year's worth of activity in support of MVC's Preoperative Testing Value Coalition Campaign. As part of MVC's commitment to improve the health of Michigan through sustainable, high-value healthcare, the Coordinating Center developed specific focus areas to drive improvement. These are termed 'Value Coalition Campaigns' (VCCs).
In an effort to communicate progress on its Preoperative Testing VCC, the Coordinating Center recently compiled a 2021 Preoperative Testing Progress Report (see Figure 2) and included it as an attachment with the most recent report communications. Accomplishments included the development of educational flyers and resources, a published manuscript, partnerships with fellow Collaborative Quality Initiatives (CQIs), and custom analytics prepared for members. In addition, the Coordinating Center set several goals for 2022, such as developing provider-level reporting and hosting a dedicated symposium or workgroup, among others.
The Michigan Value Collaborative is eager to reduce unnecessary preoperative testing. If you are interested in a more customized report on preoperative testing practices at your hospital or physician organization or you want to learn more about the stakeholder working group, please contact the MVC Coordinating Center at michiganvaluecollaborative@gmail.com.