The Michigan Value Collaborative (MVC) held its first collaborative-wide meeting of 2023 last Friday. A total of 90 leaders registered, representing 52 different hospitals, 13 physician organizations (POs), and five stakeholder organizations from across the state of Michigan. This meeting's theme of "Connecting the Dots: Celebrating 10 Years of Insights into Value-Based Healthcare" focused on interdisciplinary collaboration, care transitions, alternative sites of care, and MVC's 10-year anniversary kickoff.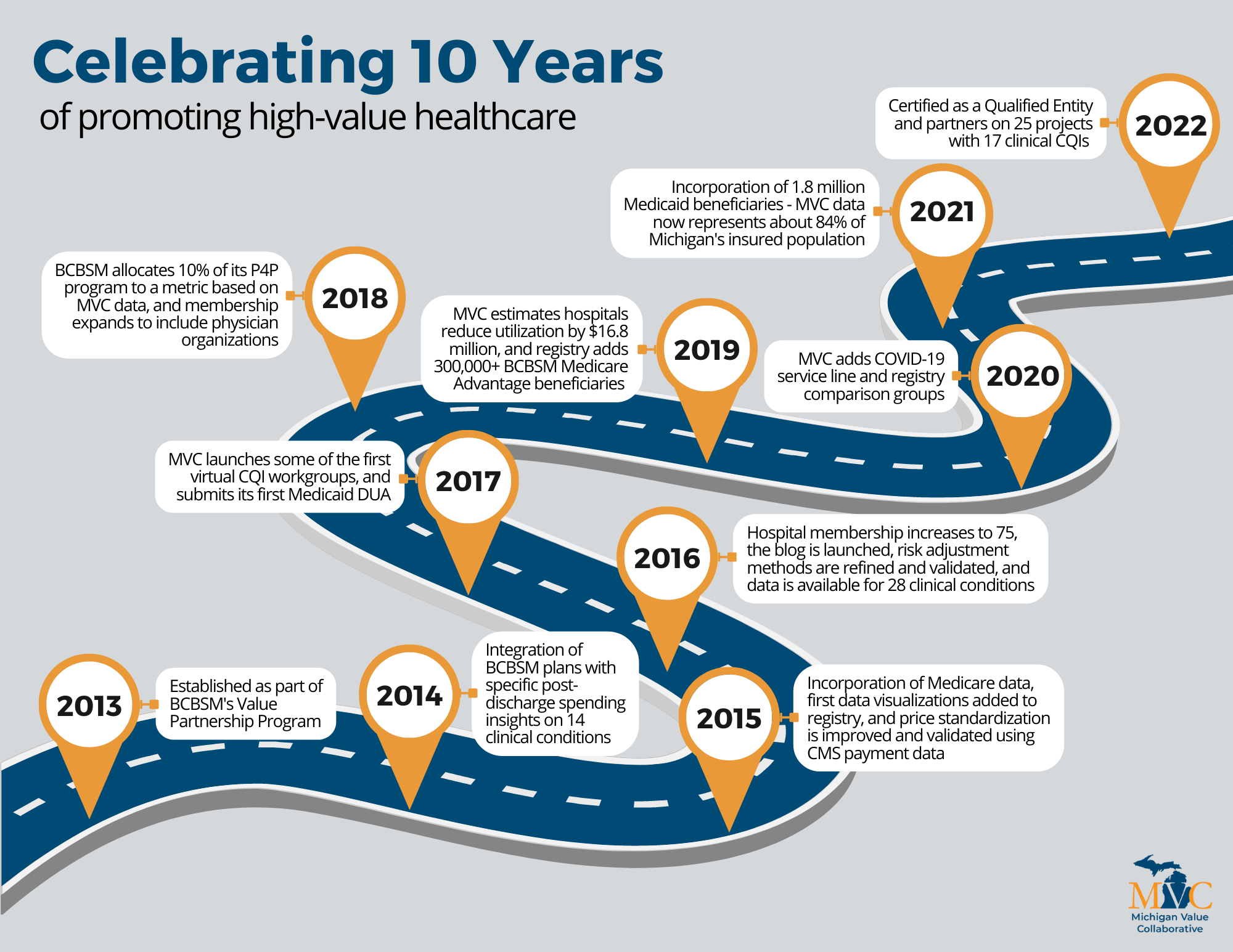 MVC Director Hari Nathan, MD, PhD, kicked off Friday's meeting with an update from the MVC Coordinating Center (see slides). He welcomed MVC's newest team members, Site Engagement Coordinator Kristy Degener and Senior Data Analyst Julia Mantey. Dr. Nathan highlighted the successes delivered by the Coordinating Center since October's collaborative-wide meeting, including the release of MVC's first Qualified Entity Public Report, which looked at 30-day unplanned rehospitalization for patients discharged to home health after high-volume medical and surgical episodes, as well as measures of post-discharge outpatient follow-up for congestive heart failure (CHF) and chronic obstructive pulmonary disease (COPD). Dr. Nathan also announced Medicare Part D pharmacy claims as MVC's newest data source and highlight recent push report releases – sepsis, joint replacement, cardiac rehabilitation, and preoperative testing – aimed at increasing the amount of meaningful, benchmarked data available to members. Rounding out the welcome address, Dr. Nathan showcased a 10-year anniversary video featuring members of MVC's leadership team, past and present.
MVC Co-Director Michael P. Thompson, PhD, MPH followed Dr. Nathan with an update on the MVC Component of the Blue Cross Blue Shield of Michigan (BCBSM) Pay-for-Performance (P4P) Program, noting that final scorecards for Program Year (PY) 2022 were distributed in March. For the 2022 - 2023 program cycle, hospital members selected two conditions to be measured for the 30-day episode spending component of the program - chronic obstructive pulmonary disease (COPD), colectomy (non-cancer), congestive heart failure (CHF), coronary artery bypass graft (CABG), joint replacement (hip and knee), pneumonia, or spine surgery - and are eligible to receive up to two bonus points for completing a survey on each of their episode conditions. Dr. Thompson presented a snapshot of the PY2022 evaluation (Figure 1), noting all participating hospitals scored at least two points and over a third of participating hospitals scored the maximum of 10 points (mean: 7.7 points, median: 8 points). Turning to PY2023, the group was reminded that mid-year scorecards will be distributed to participating hospitals in the summer of 2023 and bonus point questionnaires will be due in November.
Figure 1.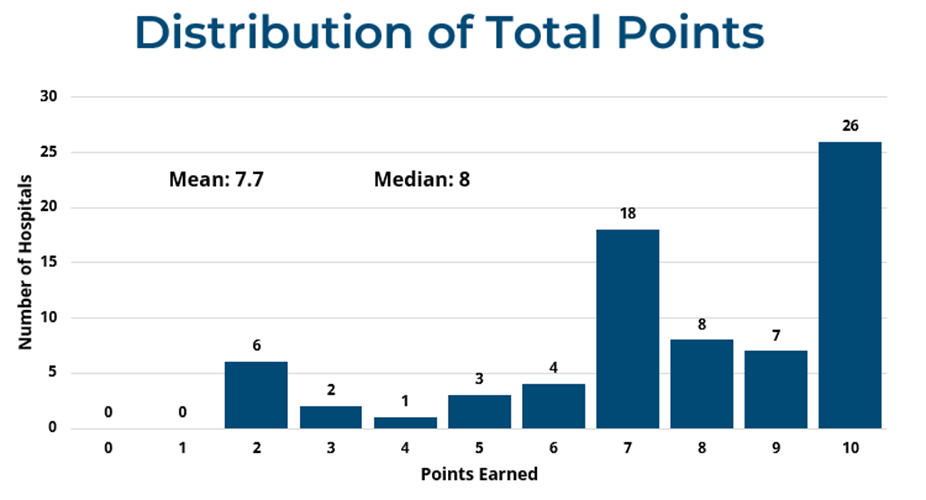 Following Dr. Thompson's update on the MVC Component of the BCBSM P4P program, Senior Data Analyst Kristen Hassett, MPH, introduced MVC's new Emergency Department (ED)–based episodes, which were developed in collaboration with the Michigan Emergency Department Improvement Collaborative (MEDIC). The new ED-based episodes are initialized by an ED visit for a set of high-volume, ED-relevant conditions, and capture both adult and pediatric patients who may not be captured through MVC's traditional inpatient/surgery-based episodes of care. The new ED-based episodes (Figure 2) provide MVC members with information on care transitions and trajectory of care for patients visiting the ED, quality improvement opportunities to prevent excess ED visits and inpatient hospitalizations, and patterns in post-ED care (e.g., inpatient admissions, outpatient visits, home health care, skilled nursing facility care, etc.). Ms. Hassett presented unblinded hospital and PO data using ED-based episode payments for CHF patients. Members who are interested in seeing their organization's ED-based episode data can contact the Coordinating Center to request a report. MVC also shared a link to a video interview of MEDIC Program Director Keith Kocher, MD, MPH, about how sites can utilize MVC's new ED-based episode structure to improve care for patients treated in the ED as well as how MEDIC supports quality improvement in the ED.
Figure 2.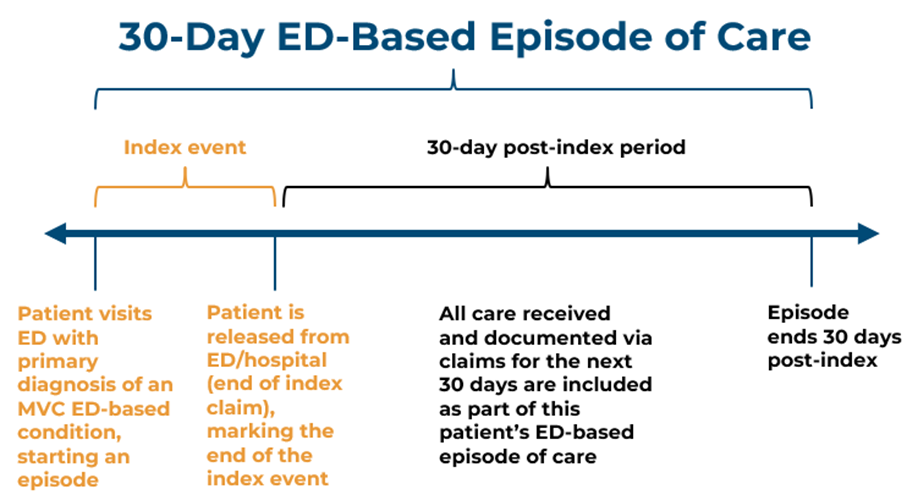 Following the ED-based episode presentation, Caitlin Valley, Senior Population Health Project Manager with Trinity Health IHA Medical Group, delivered a presentation (see slides) on their strategies and approach to caring for patients across the continuum. She began by providing insights about care transitions and why they are important. She also shared Trinity Health IHA Medical Group's team-based approach to care transitions (see Figure 3), which includes the use of a transitional support call center and care team navigators for post-discharge follow-up outreach, screening for social influencers of health (SIOH), and comprehensive medication reviews with a clinical pharmacist, among other strategies.
Figure 3.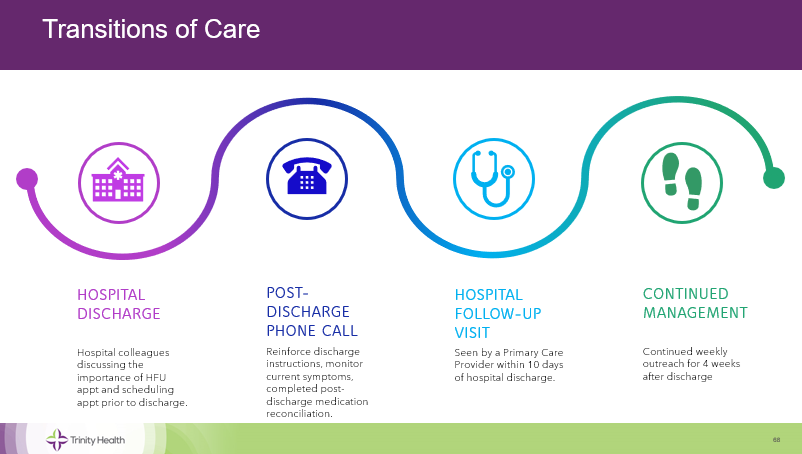 Ms. Valley also shared several barriers to scheduling hospital follow-up appointments observed by Trinity Health, and the interventions they implemented in response, such as patient education, transportation resources, and creative scheduling solutions. She concluded her presentation by discussing post-acute care collaboration among providers, citing the use of a post-acute transitional care manager and the expertise of partners specializing in the post-acute care space.
Following Ms. Valley's presentation, a poster session began, providing an opportunity to highlight recent quality improvement successes and encourage networking across the collaborative. The MVC Coordinating Center would like to thank the poster presenters:  Holland Hospital, MSU Health Care, Henry Ford Health System, Michigan Medicine, McLaren Port Huron, MARCQI, BMC2, and the Michigan Cardiac Rehabilitation Network.
Following a networking lunch, attendees participated in one of four breakout sessions: cardiac rehabilitation; post-discharge follow-up for CHF, COPD, and pneumonia; preoperative testing; and sepsis readmissions. In each breakout session, hospital and PO members reviewed unblinded data and shared strategies to address each of the topic areas.
The group reconvened after the breakout sessions for a closing presentation from Michael Sjoding, MD, MSc, Associate Professor of Internal Medicine in Michigan Medicine's Division of Pulmonary and Critical Care Medicine, and Co-Director of the Inspiring Health Advances in Lung Care (INHALE) team, one of the newest population health CQIs in BCBSM's Value Partnership program. Dr. Sjoding's presentation (see slides) centered around how INHALE has leveraged MVC data to plan and implement the INHALE collaborative.
The meeting concluded with a summary of the day and upcoming MVC activities, led by MVC Program Manager Erin Conklin, MPA. The slides from Friday's meeting have been posted to the MVC website. If you have questions about any of the topics discussed at the spring 2023 collaborative-wide meeting or are interested in following up for more detail, contact the Coordinating Center. MVC's next collaborative-wide meeting will be in person on Friday, October 20, 2023, at the Radisson Hotel at the Capitol in Lansing.