In the coming weeks, MVC registry users will receive communications outlining several required steps related to implementing the Coordinating Center's new data use agreement (DUA) as a qualified entity (QE) with the Centers for Medicare and Medicaid Services (CMS). The QE DUA permits MVC to display Medicare Fee-For-Service (FFS) claims data with fewer data suppression limitations than its research DUA within its online registry. As a result, authorized users of the MVC registry may gain access to identifiable Medicare beneficiary data.
These changes are the result of years of work by the MVC team to earn its QE status through the Qualified Entity Certification Program (QECP), which is also known as the Medicare Data Sharing for Performance Measurement Program. The QE application includes multiple phases before an entity is permitted to show patient-level data. The MVC Coordinating Center has been working through the final phase (see Figure 1) of the application, which involves developing and documenting measures for public reporting.
Figure 1.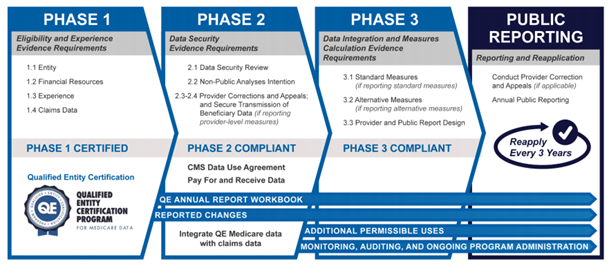 The QE Medicare data will be contained in a separate tab on the MVC registry. Authorized users will have access to both the existing Medicare FFS reports as well as the QE reports. The QE data will be available for the most recent 18 months of index admissions only and will not have any case count suppression, allowing users to see the more granular data that is censored in the Medicare FFS reports.
The QE reports also have additional patient population filters to view the data by patient comorbidities, patient age, and more granular date options. These reports also feature trend graphs that can be viewed monthly, quarterly, or annually. In addition to uncensored data, the QE data will allow for patient-level drill-down as is currently available in the Blue Cross Blue Shield of Michigan data. The drill-down includes detailed information on the patient's comorbidities, price standardized episode payments, and claim level walk-through. Although patient drill-down is available, the provider identifiers have been removed in conjunction with the QECP regulations. Additionally, the skilled nursing facility report is not available in the QE reports to avoid identifying providers.
For those with access, the QE reports should be used when evaluating the most recent years of data. The Medicare FFS reports can still be useful for historical trends and the Coordinating Center may be able to provide custom reports to fill in information that isn't available through the registry. The patient-level drill-down can be used in conjunction with a hospital's clinical information to understand what led to high-cost patients. The QE data should make Medicare data more useful to hospital members. However, QE data is only to be used for quality improvement rather than for marketing purposes. Additionally, authorized users are prohibited from disclosing or redistributing data provided in these reports outside of their institution.
Next week MVC member hospitals will receive a new QE DUA to be reviewed and signed by an authorized representative from their institution. This signed DUA is a prerequisite for receiving access to the new QE pages once they are available. MVC's current CMS research DUA will remain in effect on non-QE registry pages and will continue to utilize data suppression for fewer than 11 episodes to protect patient identities. The MVC registry will also implement multifactor authentication (MFA) upon login for all registry users regardless of QE access in order to comply with the new DUA's security and data privacy requirements.
In the coming weeks, MVC members and registry users are encouraged to be attentive to any communications containing additional details or requests. In the meantime, please contact the MVC Coordinating Center with any immediate questions at michiganvaluecollaborative@gmail.com.