The COVID-19 pandemic created a unique situation which led to the high use of telehealth in caring for the medical patient population. However, it was unknown whether these same patterns would transfer to surgical care. The Michigan Value Collaborative (MVC) registry allows health systems to leverage administrative claims data from a variety of sources and better understand trends in telehealth use. Using MVC BCBSM data, the Telehealth Research Incubator at Michigan Medicine found in their study that telehealth was a viable way for patients to access surgical care.
Historically, surgery is the medical field least likely to use telehealth. However, with in-person care constraints resulting from the pandemic and updated policies making it feasible for telehealth visits to be eligible for reimbursement, a large uptake in telehealth among surgeons was witnessed.
Approximately 60% of active surgeons used telehealth in some capacity during the pandemic. Specifically, our study examined telehealth use for new patient visits. We were curious if surgeons were able to use telehealth to evaluate new patients, and the results proved that this was a viable and beneficial option to provide care. Significantly,  27% of all active surgeons used telehealth for new patient visits.
As shown in Figure 1, at peak use, we found over a third of visits for new patients were performed using telehealth. This is in contrast to the fewer than 10 telehealth new patient visits in 2019.
Figure 1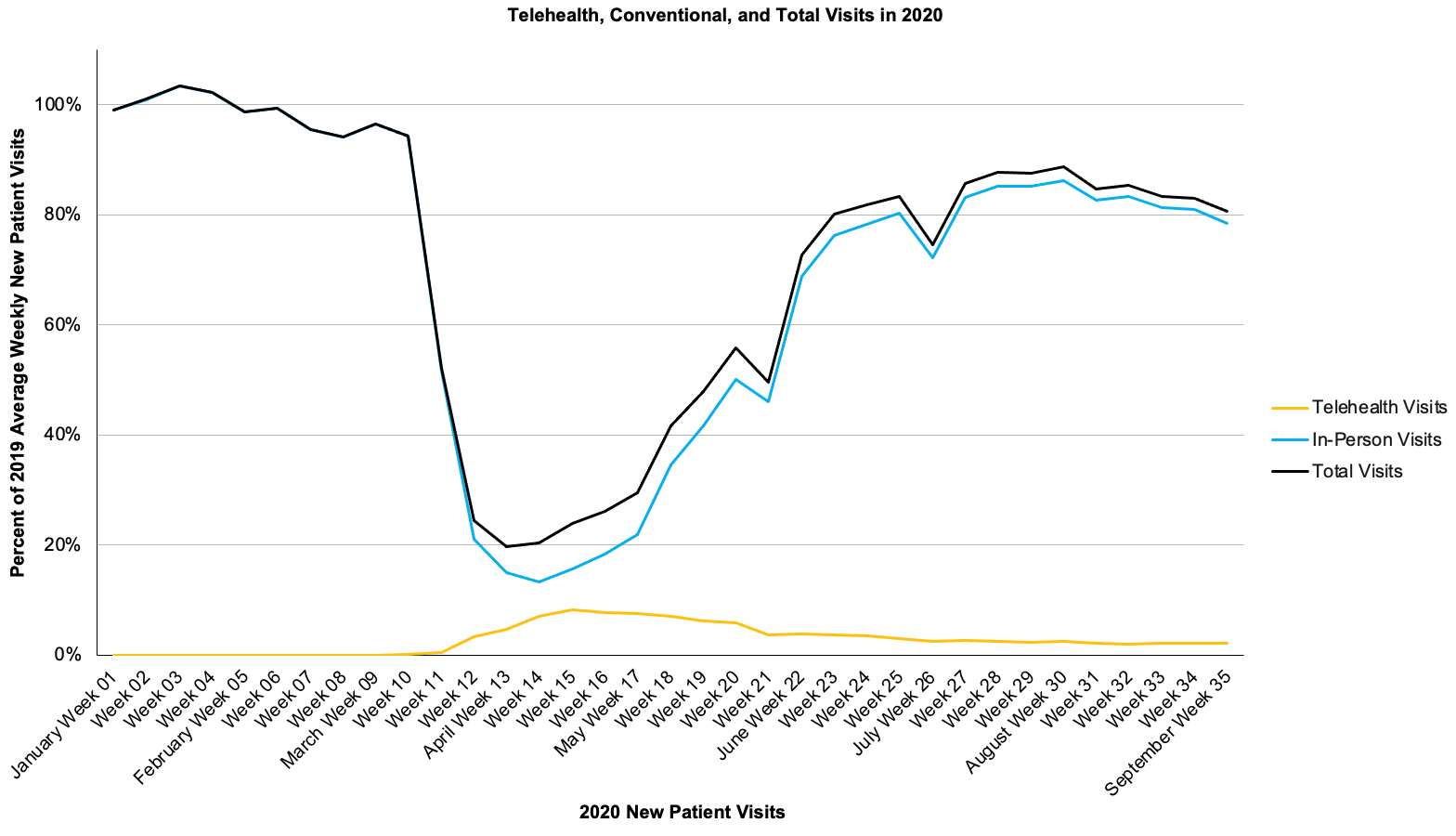 In addition, the study indicated that telehealth was successfully used for many surgical visits across multiple different surgical specialties, with urology and neurosurgery being the highest utilizers. This is shown in Figure 2.
Figure 2
There were two distinct periods of telehealth use: an early pandemic (fast uptake) and late pandemic period (slow decline). The slow decline that occurred during the late pandemic period indicated the reopening of clinics in June, and an increase in more in-person visits being used again. These are shown as Period 2 and Period 3 in the preceding figures.
Of note, our study looks at new patient visits because of the way that claims data is collected. Anecdotal evidence suggests that surgeons used telehealth even more for their established patients and for follow-up visits post-surgery. Although telehealth might save patients time and money in traveling to clinic, needing child care, and missing work, this type of consultation would be most appropriate for patients without post-operative complications.
It was noticed that telehealth provided access to surgical care for a significant proportion of patients during the COVID-19 pandemic. Any sustained use of telehealth will require ongoing updated policies and infrastructure to ensure patients have continued access to this option for their care.
Please reach out to the Michigan Value Collaborative at michiganvaluecollaborative@gmail.com for further information.