On December 7, 2021, the Michigan Value Collaborative (MVC) held its bi-monthly virtual workgroup on sepsis featuring Dr. Hallie Prescott, Associate Professor at Michigan Medicine and the physician lead on the Michigan Hospital Medicine Safety Consortium (HMS) Sepsis Initiative. For this MVC and HMS co-sponsored workgroup, Dr. Prescott presented Updates in Sepsis: What is new in 2021 SSC Guidelines. Dr. Prescott is a pulmonary and critical care medicine specialist, and she practices clinically in the intensive care units at the University of Michigan Health and Ann Arbor Veterans Affairs hospitals. She is co-chair of the Surviving Sepsis Campaign Adult Guidelines and a council member of the International Sepsis Forum.
The workgroup began with an introduction to the International Surviving Sepsis Campaign (SSC) guidelines and bundles, which are resources and implementation tools used to reduce sepsis and septic shock worldwide. The SSC Guidelines were originally published in 2004 and have been updated every four years, with the most recent edition being published in October 2021. A large panel of experts collaborates to evaluate the evidence and make recommendations (scaled by the strength of recommendation). Since their initial publication, health systems from the United States to Spain have used the SSC guidelines and tools to improve sepsis and septic shock care and outcomes.
Dr. Prescott's presentation describing the SSC 2021 Adult Guidelines highlighted several recommendations and detailed the reasoning behind some of the changes made since 2016. The highlighted guidelines included recommendations for infection (antibiotic timing, use of antimicrobials) (see Figure 1), hemodynamics (resuscitative fluids, vasopressor timing), ventilation (ECMO), and additional therapies (IV corticosteroids, IV Vitamin C). In addition, a new section for long-term outcomes (see Figure 2) was also added to the newest guidelines and reviewed during the workgroup, addressing patient education, health and social screenings, and post-discharge follow-up. Out of all the discussed recommendations, the MVC and HMS members in attendance were most interested in antibiotic use, resuscitative fluids, central line use, and treatment prioritization.
Figure 1.
Figure 2.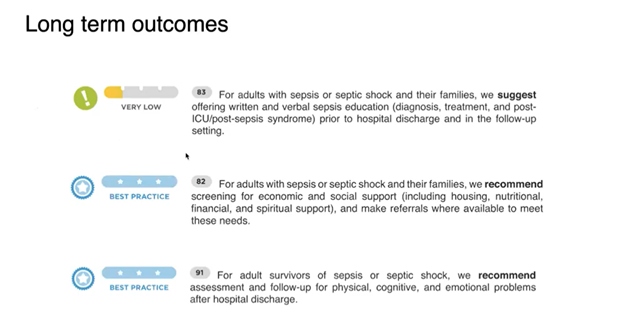 The updated SSC Guidelines offer informative and valuable recommendations that can be used to improve sepsis care and outcomes. If you were unable to attend the workgroup or are simply interested in reviewing the presentation and discussion, a recording of the workgroup is available here. To read the full published SSC 2021 Adult Guidelines and review additional resources, click here.
The MVC Coordinating Center is interested in hearing how your organization has utilized the SSC 2021 Adult Guidelines to improve sepsis care and outcomes. If you would like to present at or attend an upcoming MVC workgroup, please contact the MVC Coordinating Center at the michiganvaluecollaborative@gmail.com.