Lower back pain is a common—and challenging—realm of healthcare that is the leading cause of disability globally. As many as 80-95% of patients presenting to primary care providers with this condition have no identifiable origin for their pain. The absence of a specific etiology is exacerbated by challenges related to treatment; although there are many treatment options, not all are evidence-based and there is rarely a simple, easy fix. In addition, most primary care physicians do not like managing back pain and feel they have not been adequately trained in musculoskeletal medicine.
With the above considerations in mind, researchers argue that greater attention is urgently needed in response to the rising burden and impact of this condition. Low back pain was, therefore, an ideal area of focus for the Blue Cross Blue Shield of Michigan's Collaborative Quality Initiatives (CQI) portfolio. The Michigan Back Collaborative (MIBAC) was rolled out in 2021 and is based at Henry Ford Hospital. This new statewide quality improvement initiative focuses on better care for low back pain to address issues such as rising costs, rising disability, and patient and provider dissatisfaction (see Figure 1).
Figure 1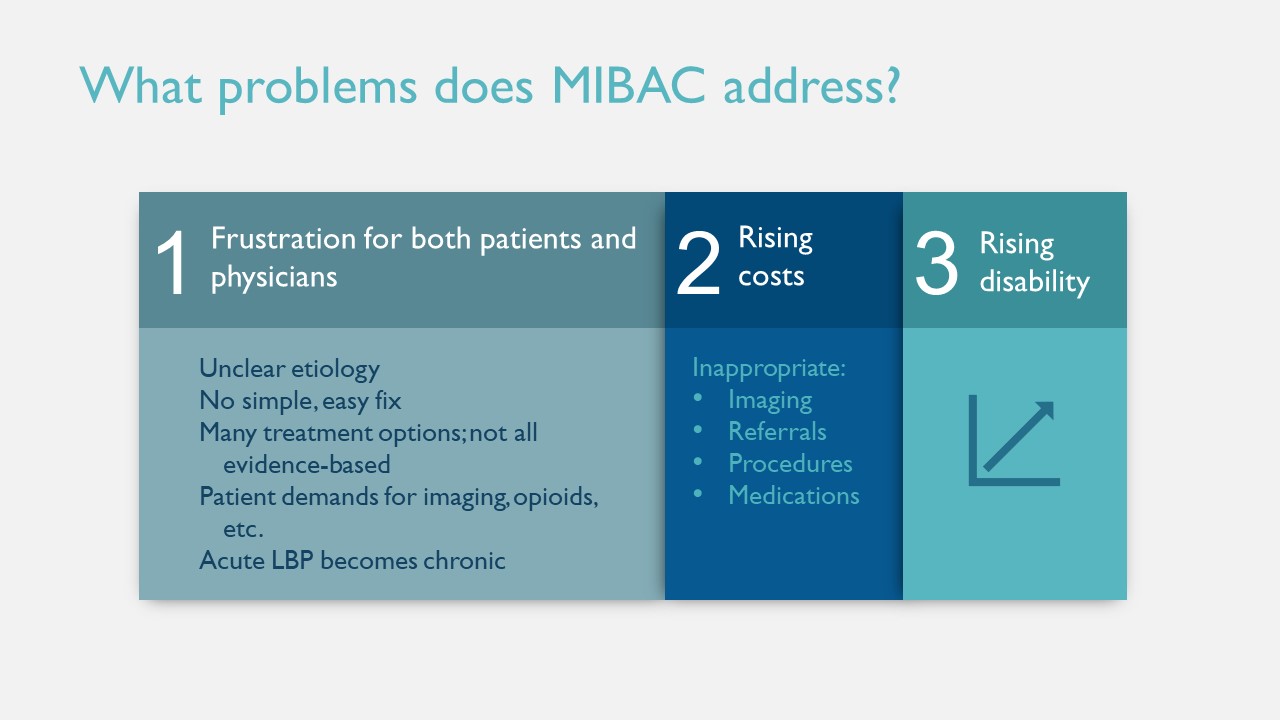 MVC Coordinating Center staff had the pleasure of meeting with the MIBAC team recently to learn more about the program, its focus, and goals. MIBAC has two components: training and quality analysis (see Figure 2). Training is the focus of the first year of commitment to the collaborative, with progression to quality analysis in years two or three. These components are all voluntary and participation in one is not contingent on completion of another.
Figure 2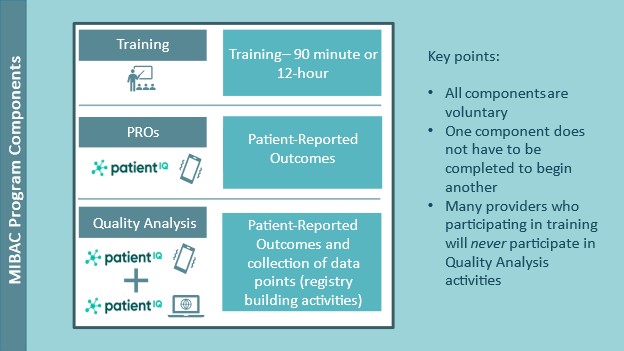 MIBAC membership currently includes clinicians such as primary care physicians and chiropractors, as these are typically the "first-contact" clinicians for low back pain. As the program expands, there is a plan for additional provider types (including physical therapists and emergency room physicians) to become involved as members of the collaborative, and the MIBAC Coordinating Center is working to recruit more physician organizations as well as independent chiropractic practitioners from across the state of Michigan.
MIBAC's evidenced-based training is available to all its providers and was delivered to more than 800 primary care and chiropractic practitioners in 2021. The curriculum was developed by Spine Care Partners and delivers information on a biopsychosocial model of spine care management. Education is provided on guidelines for referrals, imaging, and pain medication, with an emphasis on solutions and techniques that cultivate inter-professional and doctor-client partnerships. Training sessions are offered virtually and in-person and provide continuing educational credit.
MIBAC is also planning to provide data for clinicians to support more effective care patterns, better outcomes for patients, and greater satisfaction for clinicians and patients. The MIBAC database will integrate patient-reported outcomes (PROs) along with clinical and demographic data. The hope and goal of the MIBAC registry is to identify variations in practice and key quality metrics whilst building clinical and administrative "best-practices" in spine care. In order to establish a data cohort, MIBAC will focus on a six-month review and a six-month follow-up as their defining period. MIBAC plans to cultivate collaboration and networking between participating members at meetings, site visits, webinars, and other strategies.
To date, the MVC team has supported the MIBAC Coordinating Center to assess the utilization of appropriate imaging by providers to inform the development of the collaborative's VBR program. Moving forward, the MVC team will continue to work closely with MIBAC to explore other avenues to help achieve the collaborative's aim of achieving better care for low back pain for Michigan residents.
For more information on MIBAC, visit their website at https://mibac.org/.
As the Michigan Value Collaborative (MVC) continues to build its offerings for members, the Coordinating Center is cognizant that many other CQIs also partner with hospitals and providers throughout Michigan. Throughout 2022, MVC will post a series of blogs about some of its peer CQIs to showcase their activities and highlight collaborations with MVC. Please reach out to the MVC Coordinating Center with any suggestions or questions.