Last week, the Michigan Value Collaborative (MVC) joined others across the country in celebrating Cardiac Rehabilitation Week, a time to promote the value of this life-saving program. Now with the week-long promotional campaign complete and the end of February's American Heart Month approaching, MVC is proud to share some of its recent activity.
Cardiac rehabilitation has been a priority for MVC since 2020 when the Coordinating Center identified it as a focus area for which it would provide dedicated data and resources. Therefore, in celebrating Cardiac Rehabilitation Week, MVC sought to educate stakeholders about the program's benefits, current utilization rates at hospitals across the state, and initiatives currently underway to improve patient participation.
One of MVC's key strategies was the facilitation of a special cardiac rehabilitation workgroup, which featured presentations by MVC Co-Director Mike Thompson, PhD, MPH, Assistant Professor of Cardiac Surgery at Michigan Medicine, and Haley Stolp, MPH, Health Scientist at Million Hearts®, about state-level and nationwide strategies to improve enrollment. The session summarized much of the evidence behind the value and impact of cardiac rehabilitation and helped orient attendees to the current state of patient participation in Michigan. Both speakers highlighted their organization's goals for participation rates in the future, as well as the resources available to providers interested in implementing initiatives in their setting. A full recording of the workgroup was made available on MVC's social media channels and was shared with all registrants (Figure 1).
This workgroup provided detailed evidence of the benefits of participating in cardiac rehabilitation while recovering from a number of cardiac events or procedures. However, one of the reasons why this program is so heavily underutilized—currently only about 30% of eligible Michigan patients enroll—is a lack of awareness about what it is and its value. Both patients and providers often don't have a complete understanding. Therefore, MVC created an introductory video outlining the program's components and encouraged members to spread the word by sharing the video with their colleagues and patients.
MVC also recently announced a new program structure for future cycles of the MVC Component of the Blue Cross Blue Shield of Michigan Pay-for-Performance (P4P) Program, which included the adoption of a new value metric scoring component for Program Years 2024 and 2025. Value metrics are evidence-based, actionable measures that show variability across the state; hospitals will be rewarded for high rates of high-value services or low rates of low-value services. Over one-quarter of hospitals that returned metric selections to the MVC Coordinating Center will be scored in part on their facility's achievements and improvements for cardiac rehabilitation utilization. The MVC team hopes its adoption of a P4P metric focused on cardiac rehab will incentivize continued emphasis and growth.  Learn more.
Furthermore, all MVC hospital members will continue to receive MVC's cardiac rehabilitation push reports as part of its work on behalf of the Michigan Cardiac Rehabilitation Network (MiCR). These reports showcase wide variability in cardiac rehabilitation participation across the collaborative, with some members meeting the recommended levels and some well below. Many members, therefore, have valuable insights that could help a peer to enroll more patients. These report findings were highlighted last week. In the coming months, MVC plans to approach high-performing members to request advice and tools for the benefit of the broader collaborative.
Hospitals interested in improving their participation rates are encouraged to also review the MiCR Best Practices Toolkit for guidance. It was developed in partnership with providers and experts across Michigan as well as the BMC2 Coordinating Center. It highlights specific interventions that support patient enrollment, continued attendance, and flexible program structures. Several pages are centered on physician referrals, which some researchers have found increases the likelihood of participation. MVC promoted this message last week (see Figure 2) to emphasize the importance of a strong physician endorsement during patient interactions. For many patients, this is the only reason they sign up.
Figure 2.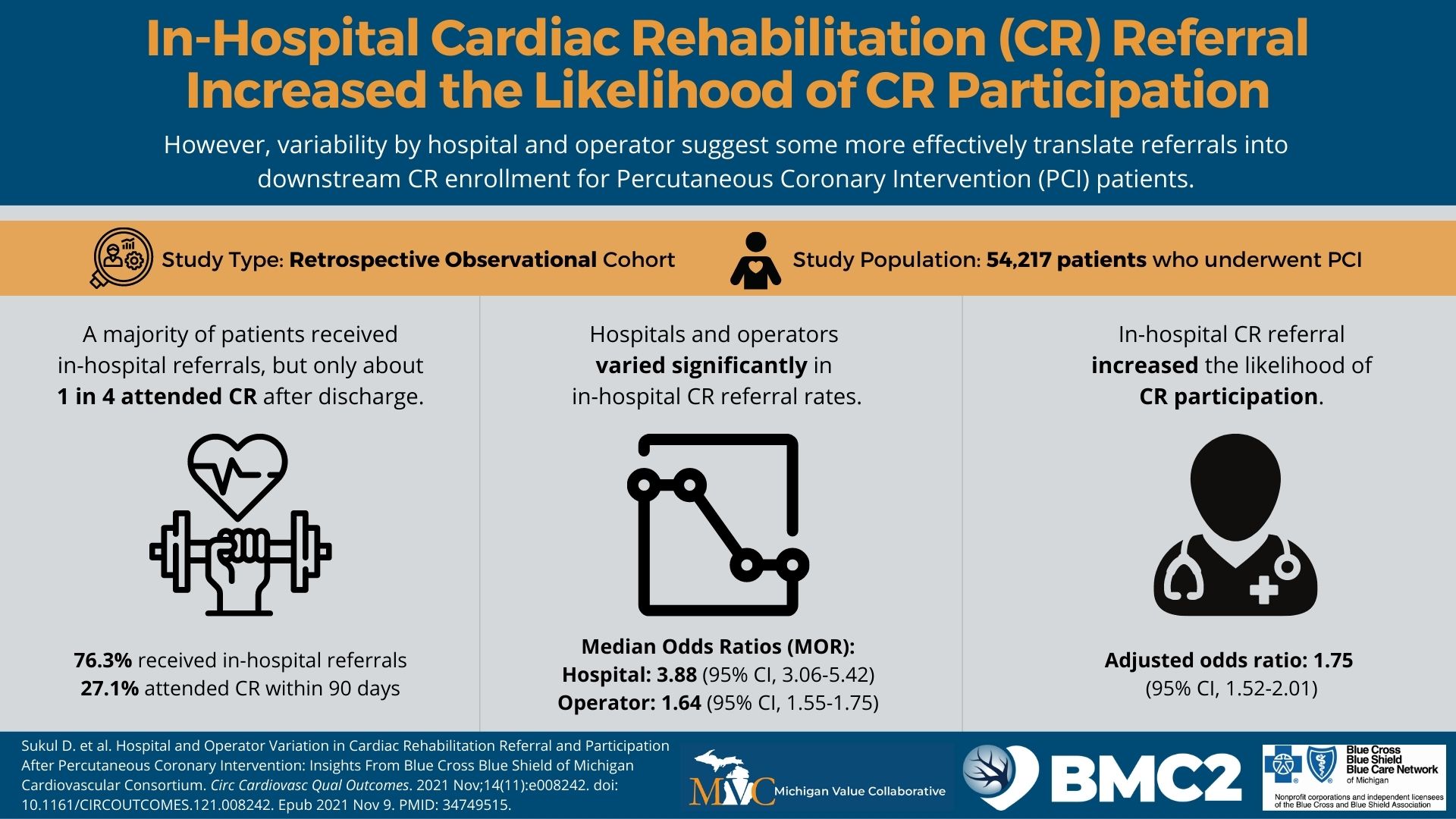 MVC is grateful to the many providers, partners, and other stakeholders who contributed to Cardiac Rehabilitation Week this year. It continues to be a high priority for the MVC team, and the Coordinating Center is excited about the growing emphasis and interest in this area of high-value care. Together, we can save lives by equitably increasing participation in cardiac rehabilitation for all eligible individuals in Michigan. Please contact the MVC team with any questions about attending future cardiac rehabilitation events or receiving related materials.