As healthcare systems continue to grow and expand, organizational leadership must consider how to implement quality improvement projects across multiple sites and venues. Currently, quality improvement is implemented using a variety of efforts and methods including project-based and system-wide change. A study published in the International Journal of Environmental Research and Public Health (IJERPH) shared information about how several healthcare organizations overcame challenges to accomplish sustainable system change.
For many years, healthcare organizations have worked to improve the quality of their delivery systems with the understanding that their complexity and flexibility can affect the change process. One of the early studies on this challenge identified three conditions that need to be in place for a quality improvement project to be effective:
A focus on areas of priority with carefully designed interventions
An organization that is prepared and ready for change evidenced by capable leadership, good relations with staff, and supportive information systems
A favorable external environment, especially regarding beneficial regulations, payment policies, and competitive factors.
Hospitals that successfully implemented QI projects hospital-wide relied on a commitment from leadership, the use of a daily management system, and quality improvement training. It was noted that those organizations more successful in QI efforts had boards that placed a priority on QI implementation, balanced short-term priorities with long-term investment in QI, used data for improvement, engaged patients and staff in the QI work, and encouraged continuous improvement culture.
The Quality and Safety in Europe by Research (QUASER) guide was used by the IJERPH study authors to assess the hospital cases they examined. This QUASER guide, now an internationally renowned framework, was first developed to aid senior leaders in facilitating systemic, detailed discussions about system-wide quality improvements. It identifies eight challenge areas (further defined in Figure 1) that healthcare organizations should address to ensure successful system-wide improvements: leadership, politics, culture, education, emotion, physical and technological infrastructure, structure, and external demands.
Figure 1.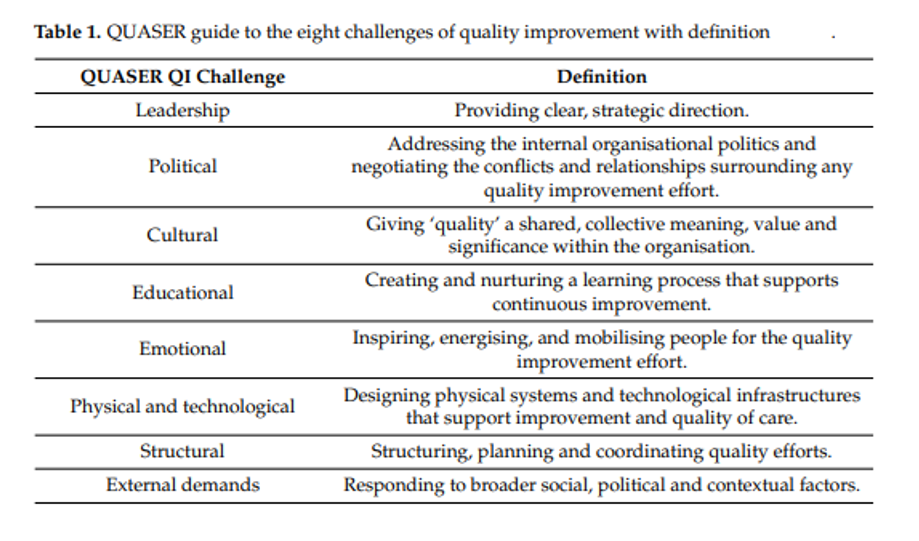 In assessing the case studies, the IJERPH study authors found that successful QI projects had addressed each of these challenges. They also found that, although a few of the QUASER challenges were missing more often than others, many of them overlap and none of the challenges on their own were directly linked to successful projects.
While many QI managers and executive teams focus more on centralized and system-level QI improvement, clinical teams often focus on improvements at the local level with a desire to improve care at the site of delivery. Local QI efforts should be aligned with centralized efforts across health systems to enhance effectiveness and reduce the burden on clinicians. By utilizing a hybrid of local and centralized methods of QI, project awareness can be aligned, and prioritization can occur between the system leadership and local clinical areas. In addition, the IJERPH study highlighted the importance of making leaders accessible. System leaders need to prioritize communication with frontline staff so they understand the system-wide changes they are working toward.
The Michigan Value Collaborative is interested in learning more about the healthcare systems within Michigan and how system-wide quality improvement efforts are being chosen, implemented, and sustained. The Coordinating Center would like to hold discussions with leadership teams to better understand this work within the Collaborative. Let MVC know how its offerings can better serve your system-level initiatives by contacting michiganvaluecollaborative@gmail.com.