As the conclusion of National Healthcare Quality Week approaches, MVC is proud to honor healthcare quality professionals for their unique contributions toward service delivery and improvements in healthcare facilities. Thus far in 2022, much was achieved by MVC staff, members, and partners. Collectively, these teams work to improve outcomes for patients in a way that doesn't add to the burden of healthcare costs. This week is an opportunity to celebrate those achievements and express gratitude to the dedicated professionals whose hard work made them possible.
MVC strives to help its members better understand their performance using robust multi-payer data, customized analytics, and at-the-elbow support. MVC has been active in each of these areas (summarized in Figure 1) thanks to MVC's dedicated Coordinating Center staff. Of note is the fact that MVC distributed 16 push reports to 100+ hospitals and 40 physician organizations (POs) so far this year, and prepared 19 custom analytic reports in response to specific member requests. These data help identify areas of opportunity and trends over time that—in conjunction with other internal and external data sets—inform quality improvement initiatives underway at hospitals and POs across the state.
Figure 1.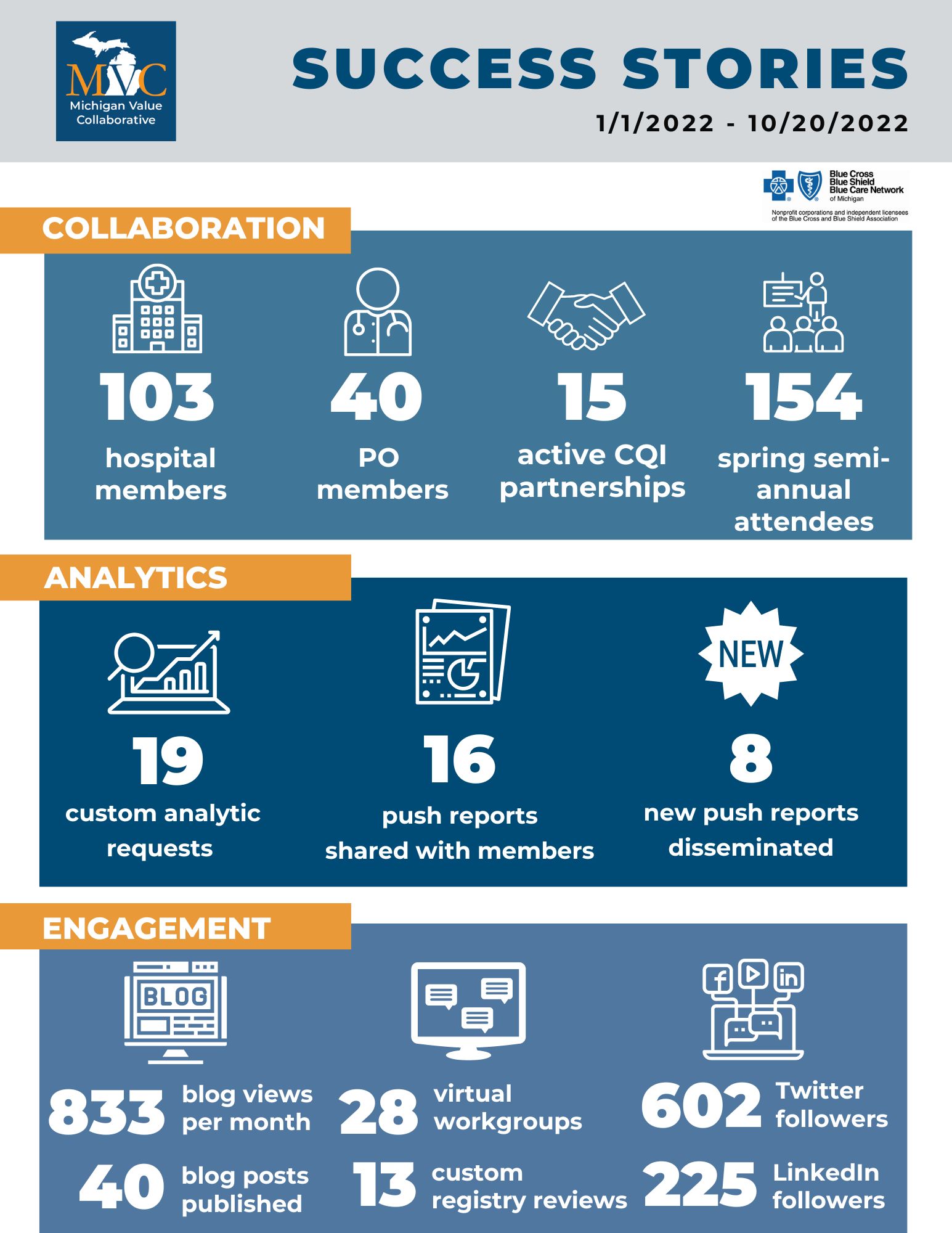 MVC previously published a detailed mid-year summary of its activities from January to June of 2022, which is available here. Since then, MVC distributed five additional push reports, three of which were new to the collaborative in recent months:
Hospital hysterectomy report – new push report!
Preoperative testing report refresh
Emergency department and post-acute care report – new push report!
MVC Pay-for-Performance (P4P) Program Year 2022 mid-year scorecards
Chronic obstructive pulmonary disease report for POs – new push report!
MVC's P4P Program mid-year scorecards also highlighted the extraordinary work taking place at hospitals across Michigan. The MVC Component of the BCBSM P4P Program evaluates each participating hospital's risk-adjusted, price-standardized episode payments for two selected conditions by measuring improvement over time and achievement relative to their peers. At the conclusion of Program Year 2021, hospitals in the collaborative contributed to an overall price-standardized decrease in payments from 2018 to 2020 for the selected P4P conditions of $7.7 million.
Figure 2.

The average points scored for the recent mid-year scorecards was 5.9/10 before including the survey bonus points—0.9 points higher than the average points scored at the conclusion of Program Year 2021. These points reflect tangible improvements to service delivery and patient outcomes, such as reduced readmissions or shifting post-acute care in skilled nursing facilities (SNF) to home health following joint replacement surgery.
To help facilitate practice sharing among members, MVC workgroups have continued to be a valuable activity, with 28 virtual workgroups completed as of this week. Workgroup topics offered in 2022 include chronic disease management, diabetes, health equity, health in action (ad hoc topics), joint replacement, and sepsis. Quality improvement is a team effort, so MVC is extraordinarily grateful to the long list of members and partners who shared their expertise and time by presenting. Thank you to the following organizations for presenting to the collaborative at an MVC workgroup thus far in 2022:
Area Agency on Aging
Ascension Genesys
Beaumont Dearborn
Bronson Healthcare
Henry Ford Health
Michigan Social Health Interventions to Eliminate Disparities (MSHIELD)
Munson Healthcare
Olympia Medical, LLC
Sparrow Health System
Spectrum Health
Spectrum Health Medical Group
Trinity Health Muskegon
Washtenaw County Health Department
As hospitals and POs press ahead to improve the quality of care delivered in 2022, MVC is eager to support your important work. If you have a follow-up question about a report, please contact MVC to discuss a custom analysis. If you have benefitted from or are looking for guidance on a quality initiative, please reach out so MVC can connect you with members undertaking similar initiatives. MVC thanks you for your tireless work, and looks forward to a continued partnership in 2023.