Background
Due to the COVID-19 pandemic, hospital systems have had to drastically reduce the number of surgeries being performed, and in many cases eliminate elective procedures altogether. As the first wave of this pandemic subsides, hospital systems will be faced with the task of prioritizing which surgical services can begin again with the least impact on the care of remaining COVID-19 patients.
In anticipation of this need, the Michigan Value Collaborative (MVC) and Michigan Surgical Quality Collaborative (MSQC) have designed reports that display historical resource utilization by surgical service line, including the following metrics: inpatient length of stay, ICU utilization, blood utilization, ventilator utilization, readmission rates, emergency department visit rates, and discharge to other inpatient facilities. The table below shows these resource utilization metrics at a statewide level for 17 different elective surgical procedures using MVC 30-day episodes combining the following payers: Medicare FFS, BCBSM PPO Commercial, BCBSM PPO Medicare Advantage, BCN HMO Commercial, and BCN HMO Medicare Advantage.
The MVC Coordinating Center is committed to continually improving the data that is available to aid our member's decision making and quality improvement efforts. As part of this, Volume 2 of the MVC Resource Utilization Report is now available on the MVC website and registry. This version includes a broader definition for ICU utilization that now includes Coronary Care Unit (CCU) utilization, a more refined Emergency Department utilization metric, and a new time frame to align BCBSM and Medicare data sources (Admissions: January 1st, 2014 - June 30th, 2019).
Resource Utilization for 17 Common Elective Surgeries at Michigan Hospitals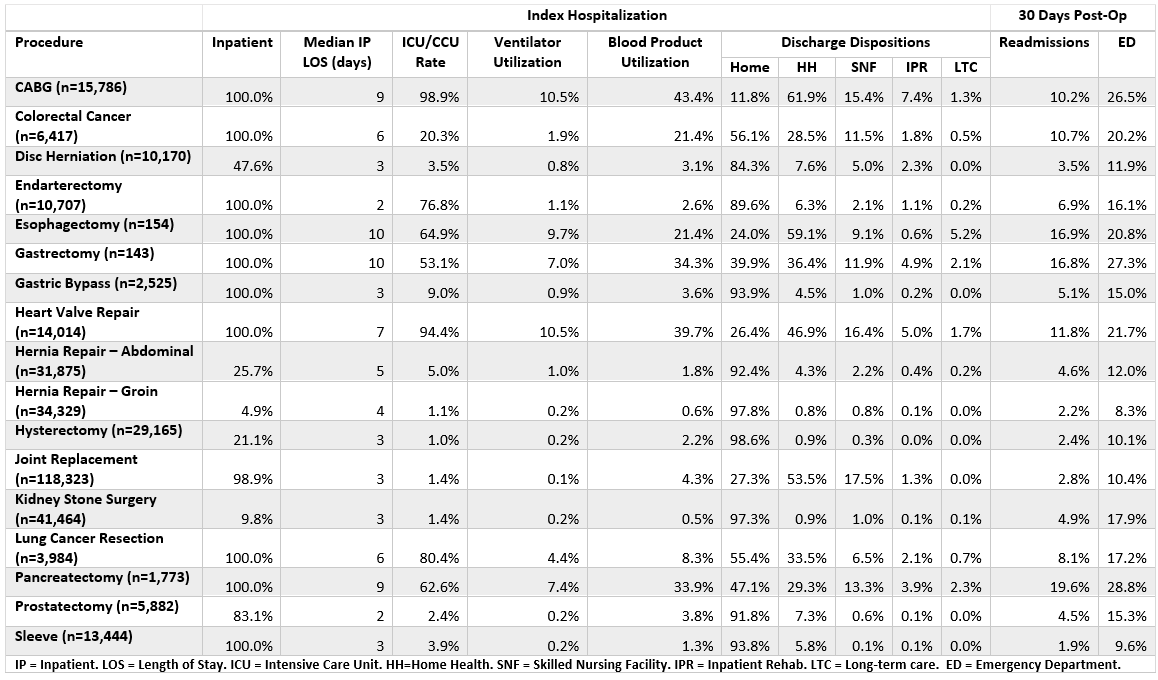 Conclusion
Our hope is that this data will aid hospital system decision makers in identifying which surgical service lines have relatively low resource utilization in order to prioritize effectively. This is an unprecedented and challenging time, and the Coordinating Center is honored to assist our frontline healthcare providers by providing timely, actionable information. If you have any questions, comments, or need help accessing the MVC online registry, please reach out to the MVC Coordinating Center (michiganvaluecollaborative@gmail.com).